Welcome back readers,
I hope everyone had a great Mother's Day weekend! My weekend was spent digging holes, carrying mulch, planting and fulfilling my gift promises with additional cooking and cleaning. According to the comments section, the number one way to relax is definitely spa and bubble-bath related, so I'll definitely be looking into some relaxation time soon! Anyway, we have some winners to announce. Congratulations to Donna Yost (May 10, 2012 at 4:24 pm), Jenny S (May 12, 2012 at 11:31 am), Cathy B*****y (May 12, 2012 at 3:11 pm), Marcie (May 15, 2012 at 4:31 pm), and Judy (May 15, 2012 at 8:48 am)! Also as a note to our lucky and random winners, it appears the Mira Luna Mother's Day gift was a bigger hit than I thought it would be and we ended up selling out of it before the end of the weekend. So as a replacement prize (which I'm sure you'll all love because it's a lot cooler than the last one) I'll be sending you the Wine Picnic Backpack Gift Basket! (Yes, it's that one really cool picnic gift I keep rambling on about every week here & here). Be sure to email your shipping information to me at amariscal@1800flowers.com and I'll send out your new gift!
For the last week or so, all I have been seeing on my Facebook dashboard are dozens and dozens of statuses of college or grad school graduation announcements, pictures of graduation ceremonies, caps and gowns, diploma pictures, and more. I know there are at least three graduation parties I have to go to and a few more I've been invited to. I only just graduated college last year, so of course I'm jealous of their newly free summers and lack of responsibilities, but I'll say no thank you to being jobless and learning to make a spare $20 last a whole month. However, since I am now (supposedly) an "adult" with an income, that means I have to pick up a real graduation gift for all these parties I'm expected to go to. And something tells me that no one is going to accept my gift from last year, which was essentially a hand drawn card with "IOU" printed largely and some candy inside.
If you're the proud parent of a new graduate or you're in need of some quick and fun gift ideas, stick around for some great graduation gift suggestions! Obviously, money is everyone's go-to gift and it's a great idea for poor new grads, but money isn't exactly the most thoughtful "hey we're proud of you" gift. So these next few ideas can be a nice add-on or your own way of making your gift more meaningful.
Grad Gift #1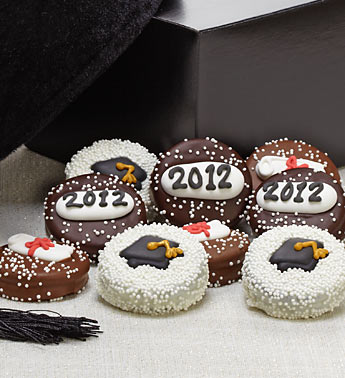 Never underestimate the power of a great briefcase or laptop bag. If they're going to start a job where they are commuting every day or if it's just a 15 minute travel, they will thank you for a nice sturdy (and stylish) bag to help ease their journey. I definitely say this from personal experience; my back and I encourage this gift! Make it extra special with some gifting extras hidden in the different pockets and openings. Maybe hide a $10 i-Tunes card in one pocket, a tasty treat in the main compartment, and maybe a twenty hidden somewhere wouldn't hurt. The messenger bag I have my eye on is Fred Perry from Asos.com, and I may be purchasing one like it soon. As for the tasty treat, I suggest these Congratulations Graduate decorated Chocolate Dipped Oreos®! So incredibly delicious and they're made with real Belgium chocolate.
Grad Gift #2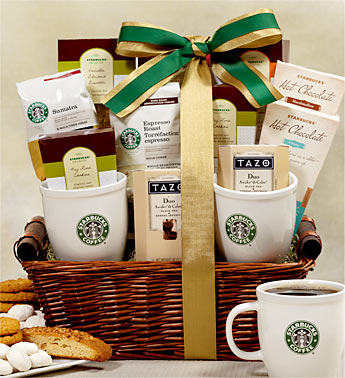 I know I post this gift basket a lot already, but it's probably one of my favorites and goes perfect for any and all occasions. Of course I'm talking about the Starbucks Break Time Gift Basket. A new grad is going to be woefully unprepared for waking up and having to actually look presentable before 8 am, so a great gift of coffee, tea, scones, and two extra-large coffee mugs is going to be exactly what they need to start off their new life. I've talk about this gift so many times, if you want to read a full review go here, for now I'm going to suggest adjoining gifts to keep your grad happy! To keep with the theme, I would pair this with a nice coffee maker or Keurig if they happen to be moving out. You can add on a travel mug and a gift card to their favorite (or soon to be favorite because it's open in the morning) breakfast place!
Grad Gift #3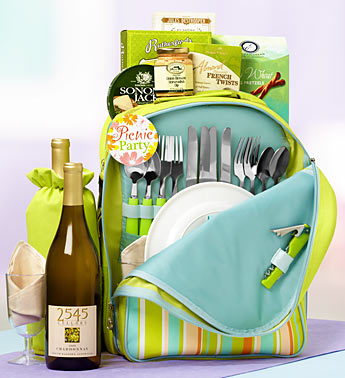 Okay, I guess I am going to push that really sweet Picnic Backpack Gift Basket on you guys one more time because I love picnics and I'm just not done talking about them! You all already know what awesome things are in there, so let's talk about some add-on gifts for your new graduate. I see this as being a kind of funny gift if they're moving out or away seeing as this gift basket comes with some plates, utensils and cups. I would attach a grocery store gift card to help with their daily needs, and a nice cookbook like A Cookbook for a Knucklehead: Bachelor, New Graduate, Beginner, and Other Spoiled Brats. I think this book would be great for anyone going off on their own for the first time and doesn't know how to get dinner without it being delivered by Mom or Grubhub.
As always with any gift, add some of your own personal touches to them like a nice card with a hand written message, maybe a keepsake, or something passed down. Your new graduates are going to need your guidance, support, and maybe $40 for gas.
In the comments section (1-2 paragraphs) tell me what you think is the best gift for a new high school or college graduate! FIVE lucky and random winners will also be receiving the Picnic Backpack Gift Basket!
Congratulations to all those Grads out there!