Baby's on the way! Time to pick a clever baby shower theme before you pop. Too many options? We'll narrow down the choices for you. Here are two of the top five baby shower trends for 2012, plus tips on how guests can get involved with fun games and cute baby gifts.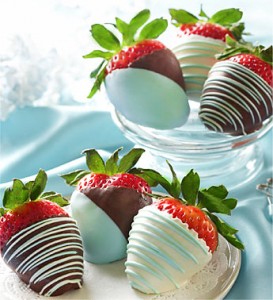 Gender Reveal Showers
Today, many soon-to-be parents are sharing the excitement of finding out their baby's sex by throwing gender reveal showers. The baby's sex is kept secret till the day of the shower, when a cake that's filled with either pink or blue frosting is served. When mom and dad cut the cake, the color of the frosting tells them whether they're having a girl or boy! Although I'm not becoming a mom anytime soon, my parents and siblings are convinced that my first baby will be a girl, so I already know this idea would be a hit with my family: Before the gender reveal cake is cut, lay out a large platter of pink and blue Fannie May chocolate-covered strawberries. Tell your guests to pick a berry based on what they think the baby's gender is. Count how many of each color are left to see which one got the most votes!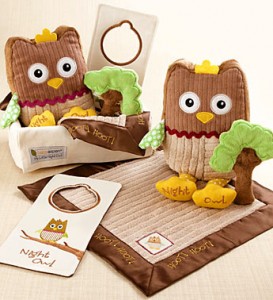 Owl-Themed Showers
My boyfriend and I are full-on obsessed with owls (we've filled each other's homes with owl-shaped mugs, candles, key caps, mouse pads … you name it), so I have an especially soft spot for this trend. New mommies who want to throw gender-neutral showers are using owls as their main source of inspiration for everything from invitations to desserts. Whether you're welcoming a baby boy or girl into the world, you can add an enchanting touch to your baby shower with woodsy decorations like old-fashioned bird houses, mason jars and spray-painted tree branches. Guests also have plenty of adorable baby gifts to choose from, like the "My Little Night Owl" 5-Piece Baby Gift Basket, to celebrate the coming of your little owlet! (Now if you don't mind, I'm going to take some mental notes for my own future shower. …)
Tune back in next week for the final three most popular baby trends of 2012! Until then, we want to hear from you. If you were having a baby, when would you want to find out its gender: as soon as your doctor could determine the sex, during your baby shower, or right after delivery?