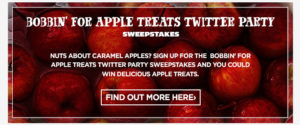 Follow us on Twitter and sign up today for the Twitter party! Bob and splash but don't miss the Bobbin For Apple Treats Twitter Party Sweepstakes! Tuesday, September 27, 1:00pm CST
Sign up Instructions: Follow 1-800-Baskets.com® on Twitter (@1800Baskets) during the Sweepstakes Entry Period. RSVP before 11:00AM CDT on 9/27/16: On Twitter DM@1800baskets for registration and include your name and email address. You must use the hashtags #1800Baskets and #Sweepstakes in all tweets when responding on Twitter during the Entry Period.
Join us for a fun afternoon and a chance to win delicious apple prizes. We're giving away three decadent and sweet prizes! Don't get soaked while you're bobbin for apple treats! Use #1800Baskets #Sweepstakes to answer the questions.
What are the three prizes? Nuts About Caramel Apple Pack (4 Ct) , So Good Gourmet Apples (4 Ct.) and Apple Pie Caramel Apple (4 Ct.)
Be sure to check out our exquisite gifts for fall occasions: Fall Gift Baskets