Easter is just three weeks away! If you're planning an Easter brunch for family or friends now is the perfect time to collect some pretty ideas for table decorating. We found a clever craft — making place cards out of small nests for your Easter table. If you're expecting a large crowd for your spring party Easter place card nests are especially helpful.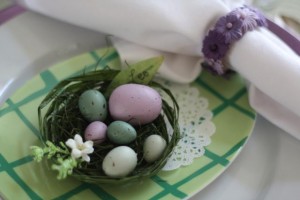 The baskets are made of raffia, so you will need raffia and a few more items. The nests can be filled with foiled eggs, candies, or candy coated Easter eggs.
For directions on how to make Easter Place Card Nests go to the link below:
Spring Nest Easter Place Cards
Spring Nest Easter Place Cards https://t.co/7OLVKjmzgf via @celebrations

— 1800Baskets (@1800baskets) February 23, 2016
For a fabulous Easter brunch buffet add eggciting treats like Happy E
aster Petit Fours and Happy Easter Belgian Oreos.  One of these would look bright and cheery in an Easter Place Card Nest! Your guests will adore them!