It's finally that wonderful time of the year – the beginning of the Holiday Season. The artfully colored leaves are saying goodbye to the branches; pumpkin flavored everything is still in full bloom (yum!), and the chill of Chicago's late-autumn breeze reminds us that Thanksgiving is just around the corner.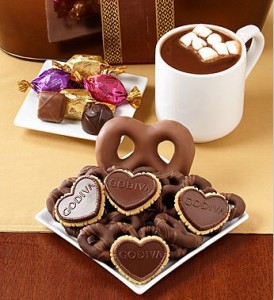 What's so pleasant about Thanksgiving is that it's a time of togetherness. It's a time to sit down and share stories, memories, laughs, and maybe some happy tears, over a hot home-cooked meal.
In addition to it being a family holiday, what I adore about Thanksgiving are the warm neutral tones, gold trimmings and deep reds accent on decorations; they really play up the festiveness of this Autumn Holiday. They're a lovely sendoff into the winter months.
When creating a gift basket appropriate for this holiday, we really wanted to capture the essence of Fall in its color and design. Another aspect we kept in mind is making it a lovely "non-gift," gift since Thanksgiving is not your typical gift-giving holiday.
This particular gift basket works on many levels. It's luxurious, festive, and Godiva; one can never go wrong with Godiva. It's a thoughtful gift to send someone as a simple gesture of holiday "thank you's," or bring over to the host of the party as a gesture of your gratitude. Which ever direction you decide to go, this gift, much like you, will be genuinely adored.