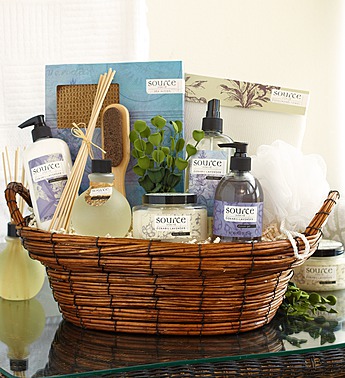 It's that time of year when we all band together to raise awareness of protecting the environment: Earth Day 2013 is on Monday, April 22! In the spirit of conserving our planet's resources and bringing new life to old objects, we've come up with a list of 30 fun (and totally practical) ways you can reuse a gift basket! This year, get in on the worldwide recycling effort by trying one of these creative ideas:
1. If you keep healthy snacks within sight, you're more likely to eat them. Use a basket to store wholesome treats so they're always within arm's reach.
2. Instead of piling your magazines on top of your coffee table, neatly stow them in a basket instead and place them in your bedroom, living room, kitchen and even bathroom.
3. Never lose your remote controls again: Keep them in a basket next to your living room couch or on top of your coffee table.
4. Don't know where to put all that mail? Don't clutter your desk with loose paper. Neatly organize your bills and stationery in a small basket at home and at work.
5. No one said toolboxes have to be manly. Place any small, frequently used hand tools in an easy-to-reach basket.
6. Always have a fresh supply of bathroom towels: Roll them up, arrange them in a basket and place them next to your bathtub.
7. Dress up your favorite blooms by placing the flower pot in a basket.
8. If you often find yourself wrapping gifts at a moment's notice, keep a basket filled with all the necessary supplies: wrapping paper, tissue paper, scissors, ribbons, etc.
9. Your basket can also double as a cute beach or picnic tote. Just toss in some snacks, flatware, blankets, towels or toys and head out to your favorite warm-weather spot.
10. Give your fireplace a stylish rustic look by storing firewood and matches in a basket next to the hearth.
11. No need to buy a big, expensive cooler for your backyard party. Line a large basket with a sturdy garbage bag, and then fill it with ice and drinks for a much cuter alternative.
12. Make your own coffee station by placing a small basket on your kitchen countertop and stocking it with tea bags, sugar packets, envelopes of hot chocolate, single-serve coffee cups, coffee filters, honey, coffee stirrers, etc.
13. Cleanup after playtime is a snap when you use a basket as a storage bin for small toys.
14. Keep your craft room tidy by putting away your bulky art supplies, knitting supplies, etc., in a basket.
15. Your dog or cat will feel like royalty when you make them their own DIY pet bed. Just place a pillow at the bottom of a basket and voila! Your pet has a new throne.
16. Don't hide all your pretty jewelry in a box. Display it in a cute basket on top of your dresser instead.
17. Save some precious drawer space and keep your kitchen utensils organized in a basket. That way, you'll have your forks, knives and spoons handy no matter where you're eating.
18. Keep your bathroom cabinets tidy: Put extra stock of your bathroom essentials (e.g., soap, hair care products, toothpaste, etc.) in a basket under the sink so they're easy to access.
19. Got a fruit gift basket in the mail? Once you've devoured all the delicious snacks, continue using the basket as a storage bin for your apples, oranges, bananas and more every time you go food shopping.
20. With a few craft supplies and a little imagination, you can transform a plain basket into a beautifully personalized gift basket for any occasion, from Easter to bridal showers.
21. Nothing relaxes you more than curling up with a blanket on the couch and watching a great movie. Keep your comfy throws within reach—and add a cozy touch to your living room décor—by piling a few blankets in a rustic-style basket.
22. Always losing a scarf, hat or glove around the house? Designate one basket in your coat closet as the storage spot for all your wintertime accessories. You'll never have to go searching for a misplaced mitten again!
23. There's no rule that says you have to toss your trash into an ugly garbage can. Just line a basket with a garbage bag and you'll have a cute trash or recycling bin that's a real treasure.
24. Make your guests feel at home by greeting them with a welcome basket in their bedroom. Fill it up with a robe, cozy pair of slippers, map of the neighborhood, spare phone charger, reading material, bathroom supplies and more.
25. Using a basket as a resting place for keys, wallets, sunglasses and hand lotion helps you avoid misplacing those loose everyday items you keep in your pockets or purse.
26. Don't juggle and drop a million things while climbing up and down the stairs. Always keep a basket at the bottom of your staircase, and fill it with all the items that have to go upstairs. On your next trip up, take everything with you in the basket. Then leave the basket at the top of the stairs, fill it up with things that have to go downstairs, and bring it with you when you go back down.
27. When you're working outside in the yard, keep all of your gardening tools in an easy-to-handle basket. It'll helps you effortlessly carry your tools with you as you move about in your backyard.
28. When your kids come home from practice, drop their sports equipment (e.g., balls, hats, mitts, gloves, helmets, etc.) into a basket so it's ready for them to use again tomorrow.
29. Maximize on storage space and keep your open book shelves from getting messy: Use baskets as organizational drawers that you can slide into and out of the shelves with ease.
30. You can make a piece of wall art out of anything—even a basket! Just cover it up with some paint in the color of your choice and hang it up as a totally unique wall accent.
What other practical ways have you used baskets in your home? Tell us about them!