Hello readers!
Thank you to everyone who participated in last week's contest, we always love bringing you the best information and hearing what you have to say. As far as this last contest goes, there can only be one winner. Congratulations to our random winner, Bob (posted June 23, 2011 at 4:25 pm)! Please send your full name, address and gift basket selection (from the "gift baskets" gift type page) to amariscal@1800flowers.com and we can help you claim your prize. To our other readers, stick around at the end for another contest!
The excitement is far from over though, so don't navigate away from me! (See? I can do internet humor). Are you all still with me? (Phew). This week we'll be changing things up and featuring some hot summer food trends and ways to solidify your reign as "hostess with the mostest" (Martha won't even know what's coming). Fourth of July and summer in general, usually mean a lot of outdoor parties, grilling, and trying to come up with foods that won't melt or make you melt in the sun. Usually I like to gather with friends or stop by my grandparents for a family party especially for my grandma's Spanish rice and steak (we got half the holiday right). My grandma (pictured) is the one who typically does all the cooking, even the grilling (if she delivered, I would be set). At one particularly infamous family BBQs she was making her usual home-made salsa and chips and additional sauces for the meat, in which she cooks and adds a hot pepper or two, some cilantro, and usually chills the salsa (it normally helps cool you off). I guess she had too many dishes going at one time and didn't realize how many peppers she added because what was normally a tasty and refreshing meal had nearly everyone red and drowning in their own sweat (even with the air conditioning). Eventually it became a challenge to see who would "sweat" it out the longest to please her. Needless to say, there is more taste testing during the cooking process now.
Are you fretting your own Fourth of July culinary fumble? There is still a lot of time left before Fourth of July to plan your perfect patriotic party (or perfect spicy revenge) without running yourself ragged, especially if you let 1800Baskets help you out (with the party bit, not so much the latter). You don't need to make everything from scratch; you just have to look like you did.
I'm still not over my love of BBQ and (lucky me) there is nary a summer party that does not involve some kind of grilling. The Jim Beam ® BBQ Bliss Grill Kit is the perfect addition to any grill master's menu. One of the sauces included is bacon BBQ sauce. Let me repeat, BACON BBQ sauce! If I could put bacon on everything, I would (plus I've tried). This sauce is incredibly delicious when paired with a succulent burger and a spicy mayo dressing. Other grill essentials are the Budweiser Grilling Steak Sauces and the Sauza ® Tequilla Grilling Steak Sauces Sets. The Budweiser set comes with a Honey BBQ Sauce that is superb with steak and red peppers, while the Sauza ® Tequilla Chili Lime sauce gives the perfect zing to grilled chicken. Both are perfect for steaks, chicken and kabobs, as well as being a great pairing for your drink of choice.
As for desserts, look no further than Cheryl's American Patriotic frosted cookies. They are an absolute dream. Personally, I like cookies that give an equal amount of sweet and savory. The butter-cream frosting is light and sweet without overpowering the flakey and buttery cookie underneath. I promise, if you lay out these cookies on the table, they will be gone faster than you recite the Pledge of Allegiance.
For simple but smart do-it-yourself summer dishes, I would like to suggest some ideas from the summer food trend report (yeah, I didn't know such a thing existed either). Watermelon has always been a refreshing summer snack, but have you ever considered cooking with it? Many trend reports suggest grilling watermelon with whatever meat you're serving, adding it to kabobs, or even sandwiches. Blueberries are making their way around the food circuit after a recent Huffington Post piece that highlighted the many benefits our little blue friends have to offer. High in antioxidants, we already know that blueberries are good for us, but research has found that a group of flavanoids called "anthocyanins" (the stuff that gives them their blue/purple coloring) may help prevent degenerative diseases such as heart disease and memory loss. They have also been found to reduce stress and stave off certain cancer cells. I suggest just leaving out little festive bowls of blueberries for snacking, while also utilizing their festive blue hues.
On top of these suggestions, I wanted to do something special to help any of you who are still thinking up some creative Fourth of July party dishes. I found and tweaked a summer salad recipe that is very simple, quick to make, extremely inexpensive (golden words to the recent grad) and incredibly delicious. Here is a step-by-step (with pictures by me!) recipe for a crisp, cool, shrimp summer salad, no ovens necessary!
SUMMER SHRIMP SALAD
Ingredients:
3-4 avocados
1 lb of frozen cooked shrimp
4 cups of chopped watermelon
½ cup of cilantro
Juice from 1 lime
3 tbsp of olive oil
1 tsp of honey
Salt and pepper to your liking
(Optional bread or crackers to serve with)
1. To defrost shrimp, rinse in a colander under the sink using cold water for about five minutes. If there, peel off tails.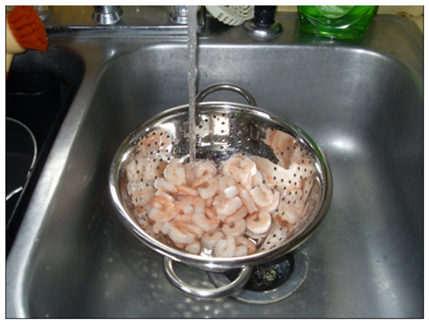 2. Halve avocados, prune and chop cilantro leaves.

3. Cut watermelon and avocados into rough pieces, can vary in sizes. Combine shrimp, watermelon and avocados in a large bowl.

4. Combine lime juice, olive oil, honey, salt and pepper in a smaller bowl and whisk.

5. Pour mixture over the salad, sprinkle the cilantro leaves, and toss.

6. Cool in the fridge for about 10-15 minutes to let the flavors combine.
7. Serve with bread, crackers, lettuce wraps or on its' own! (I used two hard French baguettes and it very filling).

Do you have a memorable story of your own? Share with us one of your own funny, touching, or amusing moments of summer (past or present) in the comments section (1-2 paragraphs). 2 random participants will be rewarded!