Welcome back Baskets Readers,
Hooray! I think everyone deserves a good pat on the back, high five, or congratulations-method of choice. Our "50 Likes Challenge" on Facebook was a HUGE success; also it appears that everyone here really did make a lot of new friends, which is always something to celebrate. As promised, because you were all so great at getting us to our goal, I have 4 random winners to announce. Congratulations to Patty Mitchell (posted at July 11, 2011 at 4:21 pm), Arturo Cabrera (posted at July 7, 2011 at 5:29 pm), Kathy S (posted at July 14, 2011 at 2:09 pm), and Ashley (posted at July 8, 2011 at 8:45 pm)! You will each be receiving our Tazo® Take A Break Tea & Teapot Gift Set that was featured in last weeks' blog post. Please send your full name, address and any questions to amariscal@1800flowers.com and we can get your prize sent to you. As always, thank you so much to all of our readers. We really do appreciate and take into consideration all of your input.
Does everyone have access to a non-descript trench coat, black sunglasses and maybe a fedora? Being loyal Baskets readers, I would like to let you in on a couple of exclusive sneak peeks to some incredible treats we have coming your way. First things first: be on the lookout Tuesday July 19, to enter for a spectacular gourmet give-away on our Facebook page. I can't say too much about it (top-secret, official business stuff) but the prize is valued at over $500! Share the secret and tell a friend to check out our page as well (don't worry; we'll still recognize that you heard it first).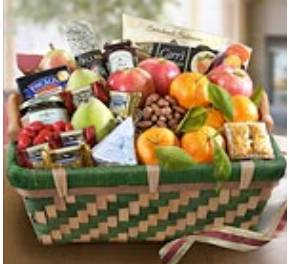 However, I do have clearance to give you an exclusive first view at our fresh, new gourmet fruit basket gift baskets collection that is set to launch next week! One of the fruit baskets I'm most excited about would be the Sierra Sensation Fruit and Gourmet Gift Basket. It is the epitome of gourmet decadence. It includes crisp Fuji apples, juicy Mandarin oranges, Columbus® dry salame, blue cheese, smoked salmon, and (here's the best part) Earth & Vine® Provisions Apple Cranberry Pear Chutney. Anyone who has had good chutney will tell you all the difference it can make on a dish (I'm still not sure what the green chutney is for my somosas, but I know that it is a necessity every time I eat one). As an extra dessert, it also includes bakery-fresh baklava. I'll forgive anyone who is (also) drooling right now.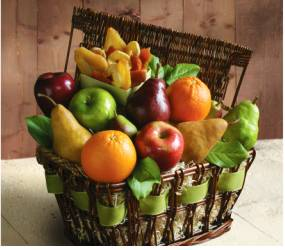 For all you green fanatics, we'll be featuring a real treat with our Orchard Fresh Organic Fruit Basket. It includes sweet ripe Bosc pears, Buerre Bosc pears, Red Sensation pears, California Navel oranges, Fuji apples, Granny Smith apples and so many more organic goodies (believe me, it will still feel like a guilty pleasure treat). It even comes in a sturdy hand-woven wicker basket with lid and rope handles, perfect for picnics or any of the other awesome suggestions you all came up with last week when you graduated Baskets Repurposing University (your diplomas might be lost in the mail indefinitely).
Maybe I'm still in the creative "ooh what can I do with this" mood (although when am I not?) so I thought I would find a mouth-watering idea of how to use the Orchard Fresh fruit basket. I don't know about you guys, but it's been a busy and fast week for me what with extra work, packing and successfully figuring out how to make time speed up so I can see Harry Potter tonight and be the crying blubbering loony in the theater (goodbye childhood!) so I'm going to let the experts at the Food Network help me out. They feature an incredibly tasty looking fruit salad that sounds easy to make and incorporates all the apples and pears we just drooled over together.
—————————————————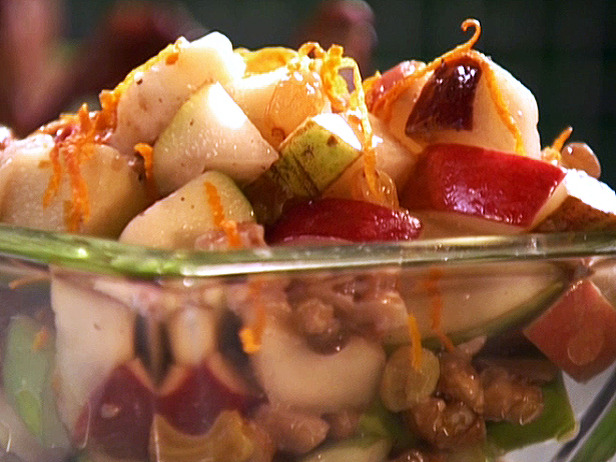 Apple, Pear and Walnut Salad
Ingredients
• 2 tablespoons red wine vinegar
• 2 1/2 tablespoons orange juice
• 1 orange, zested
• 1/2 cup raisins
• 4 apples, preferably use 2 to 3 different kinds
• 2 pears, preferably red and green
• 2/3 cup walnuts, toasted and coarsely chopped
• 2 tablespoons extra-virgin olive oil
• Salt and freshly ground black pepper
Directions
In a large bowl whisk together vinegar, orange juice, zest, and raisins. Core and cube apples and pears. Add fruit and walnuts to a bowl and drizzle with oil. Toss well to combine. Season, to taste, with salt and pepper. Refrigerate 1 hour before serving.
—————————————————-
I hope you're all as excited about these top-secret tid-bits as I am about crying through a whole box of tissues tonight! As for a possible contest next week, let us know in the comments (1-2 paragraphs) what do you think of these new fruit baskets and what kind of fun and delicious recipe could you come up with using the items from these two gift baskets (and additional outside items)? 2 random winners will be selected next week!