Hello again, Baskets Readers!
WOW! We had a HUGE influx of commenters to the blog today. Thank you to everyone who has read and participated, I hope you all stick around. Before we get into this weeks post, we have 2 winners to announce from last weeks' contest. Congratulations to our two random winners, JD Burnsed (posted July 7, 2011 at 11:04 am) and Patricia Sauber (posted July 2, 2011 at 11:55 pm)! You will both receive the Regal Oak Grandeur Gift Basket. Please send your full name and address to amariscal@1800flowers.com and we can help you claim your prize. To our other readers, stick around at the end for another possible contest!
Mondays! Ack! Okay, so it's not actually Monday, but it feels like it right? The week after any holiday weekend always feels like a series of never-ending Mondays. Extended holiday weekends are all fun, beach trips, excessive eating and games, until you wake up to find an army of ants making claims of Manifest Destiny over your kitchen. Which, coincidentally is also the time you curse your apartment for its lack of a dishwasher appliance (yeah, that one is probably just me). Maybe you had a fun party weekend in or out of the house, or maybe you're Joey Chestnut and on your fifth consecutive hot dog eating championship win (woof!). Either way, I think we can all agree that we need a break from our vacations (also we need to clean and rightfully take back our kitchens).
I vote we sit back, relax, and enjoy some of our more soothing gift baskets from 1800Baskets! The After Rain Spa Gift Basket is a retreat-week necessity. After my weekend of city festivals, hanging around the beach and coating on layers of sun-tan lotion, I can admit that I was not my usual meadow-fresh self. This is where the Après Rain sand scrub, shower gel and body butter came to my revitalizing rescue. Now I smell like roses (literally) and I'm allowed to eat in public restaurants.
If you're interested in a day to stay in and unwind, the Starbucks® Break Time Gift Basket is perfect for enjoying your freshly brewed drinks of choice without having to wait in line behind five kids all ordering the same Frappuccino. This gift basket is bursting with treats and brews. Obviously, the cookies did not last long with me, but the coffee and tea packs have saved all of my mornings. I also don't know that the picture really does the two signature Starbucks® coffee cups justice, because they are really more like coffee goblets. The first time I used one of those cups for my morning coffee, I didn't actually think through the difference it would make compared to my normal mug, and ended up finishing my partial pot of coffee all before I left for class. I had never been more fidgety for a statistics lecture that didn't involve some torturous exam. I still haven't made the scone mix that's included in the basket, but maybe I will save that for an upcoming post.
If you're more of a tea drinker, I suggest the Tazo® Take A Break Tea & Teapot Gift Set. It comes with the prettiest glazed stoneware teapot and two calming tea flavors you can pair with a good book (and a personal preference of honey).
I got so wrapped up thinking about going home to sit with my tea and Netflix account that I forgot about that cleaning part. Thankfully, there are some fun and creative ways to make the task enjoyable! As a Baskets employee, we often find ourselves surrounded by a forest of baskets daily, which actually has its perks when it comes to this next part. We've got a very helpful list of "10 Ways to Spruce Up Your Space," to help you revamp your 1800Baskets gift baskets once you've finished using all the goodies inside.
Part of the reason our gift baskets are so great is because (as we all learned the other week) we use top quality baskets in our gift baskets process! We regularly use pressed tin, soft woven wood, real willow, wicker, iron, grass, hyacinth, corn, woven rattan, hand-woven sea grass and willow combination gift baskets, and many more. The whole idea behind our gift baskets is that your gift continues to have use, even after the additional fair is gone. Our reusable gift baskets would make a great gift for any "green" friends! And without further adieu, our top 10 list:
1. Grill Gear – Use a red and white checkered towel to line baskets and store key items next to the grill including tongs, grill brushes or sauces.
2. Pretty Planters – Waterproof baskets by lining with plastic wrap, filling with packing peanuts for drainage, potting soil and blooming plants. Beautiful on the porch or inside as sweetly scented décor.
3. Living Room Luxe – Loose living room objects, like blankets and throws, magazines and remote controls can easily make a space look disorganized. Tidy up by gathering items in chic baskets of various sizes.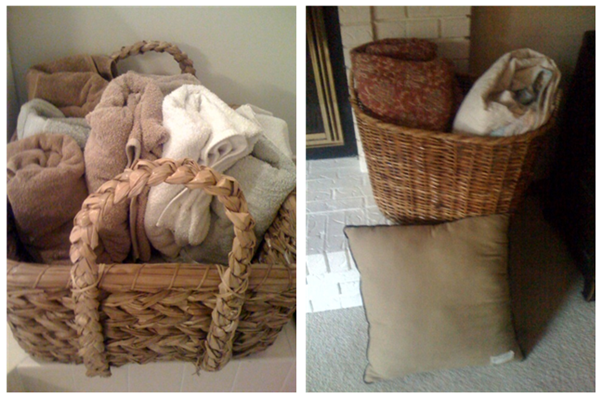 (Pictured: A generous submission from one of our Baskets employees)

4. Beautify Bathrooms – Stock a basket full of bathroom necessities, like toilet paper or toiletries, for a sleek storage solution.

(Also can be used to clean up closets!)
5. Seasonal Centerpiece – Fill gift baskets with themed decorations like Easter eggs and raffia, or holiday ornaments for a festive centerpiece.
6. Fashionable Fireplace – Bring the outdoors, indoors by loading baskets with pine cones, wood or fireplace accessories for a festive fireside.
7. Keeper of Keepsakes – Don't toss old greeting cards or thank you notes – organize them in a small basket and tie with a bow for a decorative place to store your treasured memories.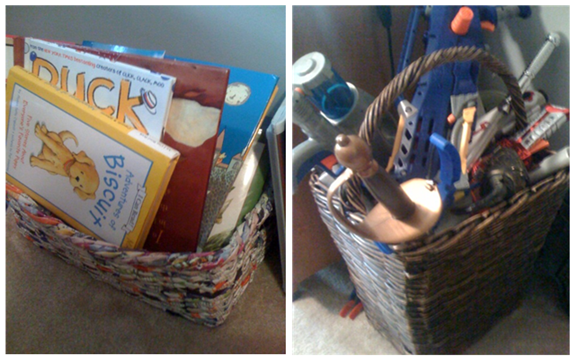 (Perfect to store childrens books and toys)

8. Bread Basket – Keep bread warm and toasty by lining a small basket with a cloth napkin and filling with your favorite bread. Short on cabinet space? Use the basket as decorative wall decor until your next homemade meal.
9. Pet Pillow – Create a comfortable and protected space for Fluffy by filling baskets with soft fabric or decorative small pillows.
10. Diaper Duty – Diapers may be costly, but the place you store them doesn't have to be. Re-purpose a baby-themed gift basket to hold diapers and other changing necessities.

(Get creative with designs or help yourself with organizing)
Do you have any great storage tips you would be willing to share? Have you done any of these methods with your own gift baskets? Tell us about it (using 1-2 paragraphs) in the comments section! Depending on the outcome of our "50 Likes Challenge" on Facebook (which I know you all can do anyway) we will select 4 random winners by next week!!