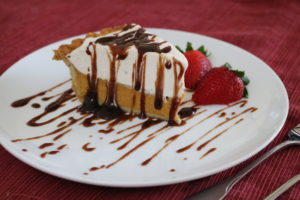 by Crystal Watanabe
Pumpkin spice lattes are popping up all over the place again, a sure sign of the arrival of the fall season. Sweaters, boots, and of course fall holiday entertaining are soon to follow.
When Thanksgiving rolls around, there are always at least two or three pumpkin pies on our table—usually because guests are trying to prevent the worst-case scenario of no pumpkin pie at dinner! For me, though, there's something even worse than no pumpkin pie: no whipped cream.
I look at photos of pumpkin pie slices with cute little dollops of cream on them and laugh. At Thanksgiving dinner, I hold back on the main course so I'm ready to plop a mountain of whipped cream on my pie. My favorite pumpkin pie recipe, then, is heavy on the good stuff.
Similar to how a banana cream pie is constructed, the traditional pumpkin pie filling is on the bottom and a thick layer of spirced cream sits on top. You'll find it's light and fluffy and has just the right ratio of cream to pumpkin.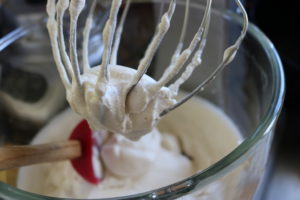 Ingredients:
Pie Crust
3 cups flour
1 cup vegetable shortening
2 eggs
3 tbsp sugar
1 tsp distilled white vinegar
1/2 tsp salt
Pumpkin Pie Filling
15 ounce can pumpkin puree
1/2 can condensed milk
2 large eggs
1/2 tbsp pumpkin pie spice
1 tsp vanilla extract
Pumpkin-Spiced Whipped Cream
1 pint heavy whipping cream
6 tbsp confectioner's sugar
1 tsp pumpkin pie spice
2 tsp vanilla extract
Hot fudge topping (optional)
Instructions:
Combine flour, sugar, and salt in a bowl. Cut in the shortening with a pastry blender until nice and crumbly.
Mix one beaten egg, vinegar, and 4 tablespoons of water. Reserve the other egg on the side for later. Whisk the ingredients in a large bowl and gradually add the flour/shortening mixture.
Mix with a fork, and then add one more tablespoon of water.
Form the dough into a ball and wrap in plastic wrap. Chill in the fridge for at least an hour.
Once chilled, roll out on a lightly floured surface and place crush in pie pan, cutting off the excess. Use your fingers to crimp the sides.
Preheat the oven to 350 degrees. Make an egg wash by beating the reserved egg and adding a splash of water. Brush the top of the pie crush with the egg wash.
Mix together the pumpkin, condensed milk, pumpkin pie spice, and vanilla. Taste to make sure there's enough spice to your liking, and once just right, stir in the eggs.
Pour the filling into the pie shell and smooth out the top. Place in oven and bake for 45 minutes. Once done, cool on a wire rack, and then place in the fridge to chill overnight.
The next day, it's time to make the whipped cream. Using a stand mixer, combine the whipped cream ingredients and with the whisk attachment, whip the cream on 3 or 4 (keep the setting low) for four to six minutes, until the cream forms short peaks. You can use a plain ole whisk for this step instead—it's up to you!
Scoop whipped cream on top of the pumpkin pie, smoothing it out and giving it a nice rounded top. Return to the fridge for at least two hours to set.
Cut, serve, enjoy! If desired, drizzle slices liberally with chocolate topping.