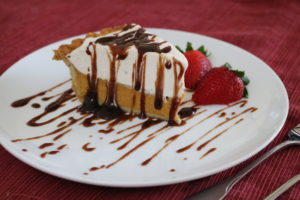 by Crystal Watanabe
Pumpkin spice lattes are popping up all over the place again, a sure sign of the arrival of the fall season. Sweaters, boots, and of course fall holiday entertaining are soon to follow.
When Thanksgiving rolls around, there are always at least two or three pumpkin pies on our table—usually because guests are trying to prevent the worst-case scenario of no pumpkin pie at dinner! For me, though, there's something even worse than no pumpkin pie: no whipped cream.
I look at photos of pumpkin pie slices with cute little dollops of cream on them and laugh. At Thanksgiving dinner, I hold back on the main course so I'm ready to plop a mountain of whipped cream on my pie. My favorite pumpkin pie recipe, then, is heavy on the good stuff.
Similar to how a banana cream pie is constructed, the traditional pumpkin pie filling is on the bottom and a thick layer of spirced cream sits on top. You'll find it's light and fluffy and has just the right ratio of cream to pumpkin.