A big plate of corned beef and cabbage with potatoes, carrots and other vegetables is traditionally served on St. Patrick's Day. It's a hearty supper for a day in March that could bring "fierce weather".
You'll love this new twist on traditional corned beef and cabbage perfect for a St. Patrick's Day party buffet!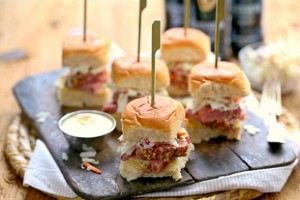 This recipe was inspired by the St. Patrick's Day scene in St. Louis. The Gateway to the West is lucky enough to have two St. Patrick's Day parades! A big downtown parade and a smaller parade in the Irish part of the city — Dogtown.

Be sure to make plenty of these sliders because they'll disappear in the blink of an eye like a leprechaun! The quick Guiness mustard is a tasty addition to the corned beef and cabbage sliders. Here's the recipe:
Add some Shamrocks!
Serve on a St Patrick's Day buffet table with