Whether you're five years old or fifty, the anticipation and excitement over Easter celebrations and traditions never really dwindles. Spread the joy of Easter by surprising friends and family members with a unique and fun Easter gift, delivered right to their door step! Sending an Easter gift is especially important to those who forfeit their spot in the yearly egg painting party because they can't make it home for the holiday.
Here are some creative and fun Easter gift ideas your recipients are sure to love:
Easter Gifts for Kids:
A festive three-story tower houses a collection of Easter-inspired treats spring chicks will chirp loudly for! This adorable Easter gift idea includes sweet snacks such as Harry London® Butter Cream Eggs, The Popcorn Factory ® Very Berry Popcorn, and colorful jelly beans, to name a few.
What's adorable, sweet, and irrefutably delicious? Our Baby Chick Tower, of course! Send one today before this cute baby chick flies away.
An adorable bunny tote filled with the season's most festive candies is sure to put a big smile on any child's face. They are sure to be the coolest kid in school when they reuse the tote bag to carry their school books!
America's favorite cookie gets a makeover just in time for Easter with this irresistibly adorable dessert gift! Each tin comes with 16 beautifully decorated Oreo® cookies – perfect for sharing!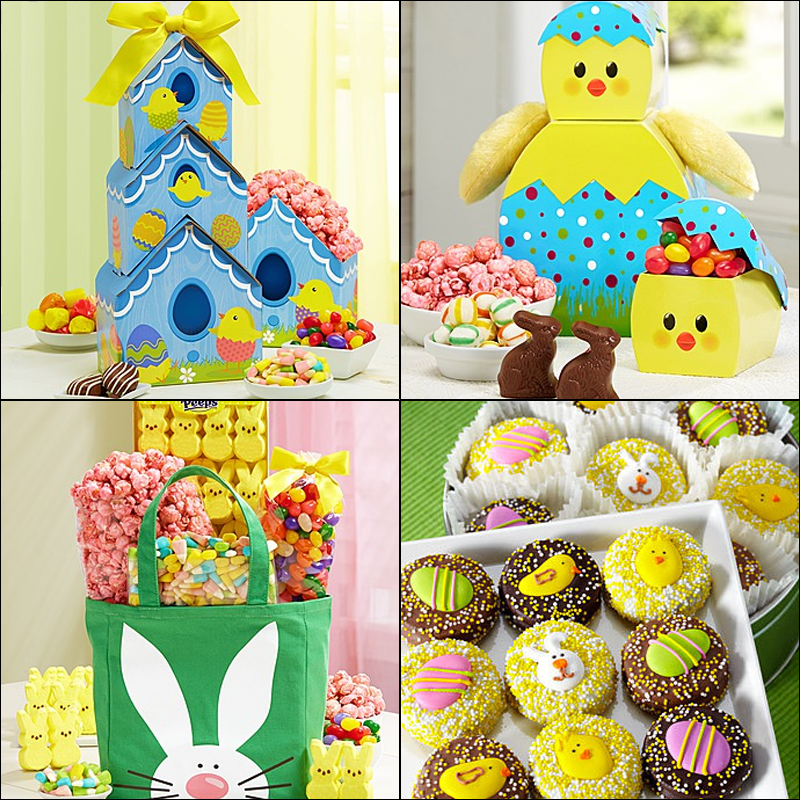 Easter Gifts for Adults:
If your recipient loves chocolate but passes on the chocolate bunnies, send them an Easter basket that's just as sophisticated as it is sweet! This gourmet chocolate basket features products from Lindt, Harry London®, and Ghiradelli ®.
A delicious Merlot paired with irresistible chocolates and candies, all wrapped in a festive purple bow for spring makes for the perfect Easter basket for adults.
If your recipient prefers water to wine, surprise them with a dainty and delicious tea basket, perfect for enjoying during Easter brunch! They'll love looking at the spring-inspired personal teapot while snacking on delicious Cheryl's chocolate chip cookies.
An Easter celebration calls for a tray full of the season's freshest fruits and pickings. Surprise your special someone with a bountiful gift basket, full of apples, oranges, pears, and more with one of our succulent and satisfying fruit baskets.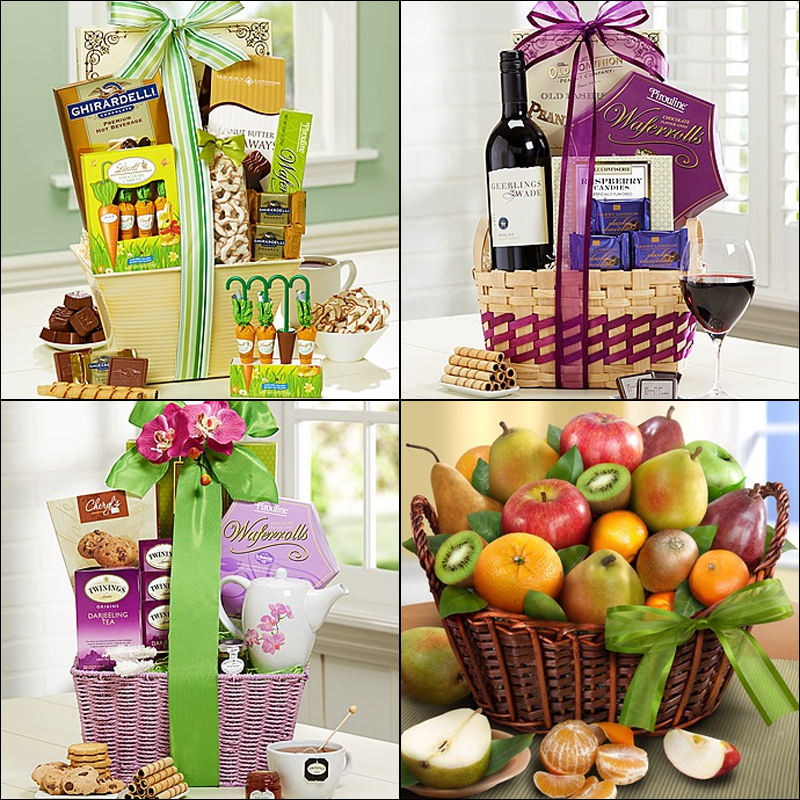 Easter Gifts for All Ages:
Chocolate chip cookies are a favorite at any age. There's just something irresistible about the delicious crunch paired with melt-in-your-mouth chocolate that we can't seem to get enough of. Add some sweetness to their Easter celebration with this cookie jar filled with delicious mini-chocolate chip cookies, packed into a reusable jar!
Surprise your giftee with a beautiful spring-inspired basket on Easter they'll ooh and aah over! Bold in color and packed with delicious treats, this gift basket idea will wow any recipient.
Can you think of anyone who doesn't just love brownies? Neither can we! That's why the perfect gift for any recipient are these decadent egg-shaped brownie cakes, beautifully decorated by hand with classic Easter egg styles.