The joining of two lives into one love-fueled family is certainly a reason to celebrate! Congratulate the happy couple on their engagement by surprising them with a creative gift full of delicious treats, beautifully packaged and sure to wow.
Here are some fun and unique engagement gift ideas sure to impress any recipient.
Such an exciting announcement deserves a major gift to match. Our gigantic fortune cookies are delicious, fun, and can be personalized with your own message, so you can send well wishes or even advice from your years of experience! Once the happy couple is done enjoying the irresistibly crunchy bites of cookie, the newlyweds-to-be can even reuse the accompanying box to store things like memories and photos of dream vacations! Isn't love just grand?!
Toast to a perfect pairing with a wonderful wine gift. These baskets come expertly paired with the irresistible snacks and treats to turn a regular glass of wine into an unforgettable experience. If you're unsure whether the recently engaged prefer white or red wine, opt for a basket that features both to satisfy all tastes.
Treat the happy couple to a mini trip to one of the most romantic countries in the world with the Essence of Italy Market Box. Filled with wine from Tuscany and gourmet snacks infused with the flavors of Italy, this engagement gift idea is almost as good as a honeymoon in beautiful Italia! Take it a step further by including a greeting in the romantic Italian language; "Congratulazioni per il vostro fidanzamento" translates to congratulations on your engagement.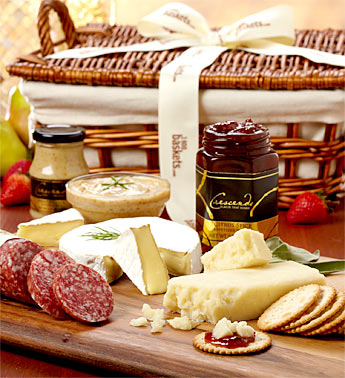 Meat and Cheese Picnic Basket for Two
There's something just so charming and romantic about a picnic for two. Send the newly engaged couple a beautiful picnic basket filled with deluxe meats and cheeses for them to enjoy together. Pair this one of our wow-worthy wine gift baskets for a complete date-in-a-box!
All the excitement of wedding and life planning can sometimes be stressful. Treat the happy couple to a night of relaxation with a luxurious lavender spa gift basket.