Administrative Professional is more than just a title; it comes with the responsibility of paying attention to every detail big or small, and even requires the psychic ability to know what the boss needs before he or she even knows it's needed. Although we celebrate Administrative Professionals Day on April 23rd, bosses everywhere have recognized the true importance of these supporting roles, and have dedicated a whole week – starting on April 20th and ending April 26th – to celebrate the unsung heroes of the office.
Administrative Professionals Day Gifts for Men
From martinis to meats, send a man-approved gift for them to enjoy on their next day off. Think about your recipient's likes and hobbies when choosing a gift to really show appreciation. If he's known for his skills on the grill, send a hearty package full of savory steaks. If his idea of an ideal Saturday night includes a wine tasting at the local vineyard, surprise him with a wine gift basket. Get personal with your selection and you're sure to wow your recipient!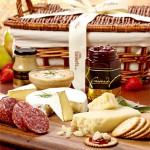 From left to right:
Epicurean Meat & Cheese Baskets
Muir Woods Scented Soaps for Him
Fisherman's Favorite Snacks
Vintage Pressed Glass Jar with Jumbo Cashews
Administrative Professionals Day Gifts for Women
Your favorite administrative professional could certainly use some extra relaxation and fun, so gift her with something that will make her weeknights a bit more enjoyable. Include a bonus gift in the card message such as the rest of the afternoon off or maybe even a three-day weekend!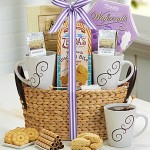 From left to right:
Thank You Deluxe Balsam Basket
Party On Margarita Market Box
Warm Vanilla Relaxation Spa Basket
Ultimate Coffee Break Basket
Administrative Professionals Day Gifts for the Whole Office
Show the whole office appreciation by surprising the whole office with a bountiful basket filled with sweet snacks and treats, sized for sharing. Send a company-wide invitation (or one to just the administrative professionals in the office) for the staff to join you for a much needed mid-day break. It's the smallest sentiments than can make a big difference, and really, who doesn't just love food? Now you're on your way to earning that "#1 Boss Mug" you've been using for years.
From left to right:
Flower in Bloom Gourmet Fruit & Nuts
Orchard Indulgence Fruit Gift Basket
The Popcorn Factory Big Thank You Snack Tin
Mrs. Beasley's Ultimate Dessert Basket