Welcome back readers!
You all had a lot of great Father's Day gift suggestions and I will definitely be stealing a few! We've got some fun stuff ahead so let's get to it.Congratulations to Patricia Sauber (May 24, 2012 at 4:47 pm), Mike (May 25, 2012 at 11:11 pm), Roxanne (May 26, 2012 at 3:37 pm), Josh (May 31, 2012 at 8:57 am), and Terry (May 31, 2012 at 8:57 am)! Please send your information to me at amariscal@1800flowers.com and I'll send out your Stubbs BBQ gift set!
Have you picked out the perfect gift for dad yet? June is only a skip away. Dads tend to be a lot harder to shop for sometimes. I can never tell if I'm getting a gift that will be well used or one that will end up collecting dust. I'm positive though, that you can never go wrong with a tasty food gift. We just got some new and delicious Father's Day gifts in and I thought it would be a great idea to showcase them with a little gift guide quiz I'm sure most of you are familiar with. It's time to play Guess That Dad!
When you're done taking our little Father's Day Gift Quiz, tell me in the comments section (1-2 paragraphs) which answer you got and come up with your own gift idea that would fit! FIVE lucky and random commenters will win the Father's Day Handyman's Snack Gift Toolbox!
Enjoy! 

Q: What is the one object your Dad can't live without?
A) The grill, definitely.
B) His golf set
C) Toolbox
D) A deck of cards
Q: What is Dad's favorite show to watch?
A) Diners, Drive-Ins and Dives
B) Sports Center
C) Holmes on Homes
D) Any game show, he's tuned in.
Q: What's the one thing you learned from Dad?
A) To try new things
B) To have a great deal of patience
C) To be self-reliant
D) To look at situations from all angles
Q: What is Dad's favorite shirt to wear?
A) "Kiss the Cook" shirt
B) A polo shirt
C) It's more of an oil rag now…
D) Short sleeve button-up
Q: Dad's favorite color?
A) Red
B) Green
C) Brown
D) Black
Q: It's Sunday afternoon, where is your Dad?
A) Cooking dinner!
B) Out on the green hitting a few tees while the sun is out
C) With his head under the hood of his car
D) Shhh…he just missed that hand!
Did you get…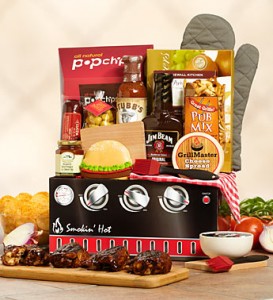 Mostly A's: He's a natural born chef! You can always find him trying out a new recipe, rub or seasoning and ready to entertain the whole family! We're sure he'd love this Dad's Classic BBQ Grill Gift Set.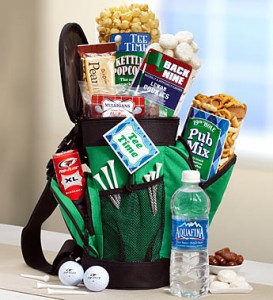 Mostly B's: Dad's a very relaxed guy and easy-going. He enjoys a nice snack, and a gift with meaning. Get him a great gift that he'll love like this Golf Tote Bag with Snacks.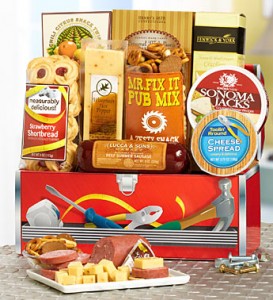 Mostly C's: No matter what the problem, no one can fix it quite like Dad. He's been your personal handy man for as long as you can remember. Fix his hunger with this Father's Day Handyman's Snack Gift Toolbox.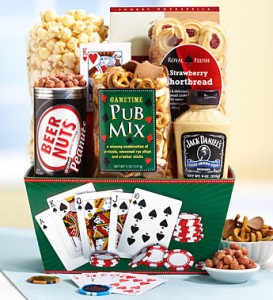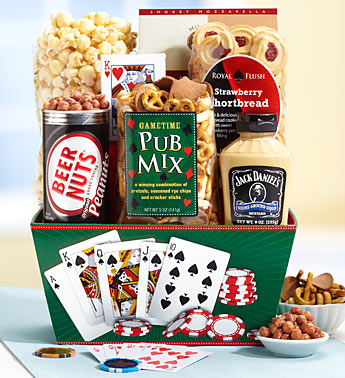 Mostly D's: Always calculating the odds, Dad is there for an answer when you need him most. The best way to Dad's heart this Father's Day is with this lucky treat! Get him the Happy Father's Day Gaming & Poker Bin.