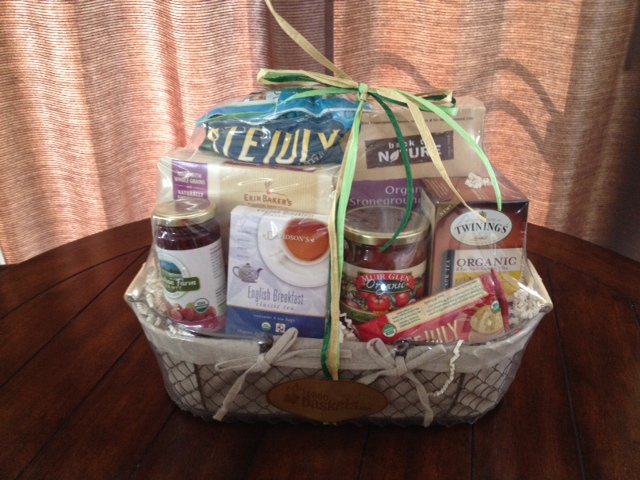 A gourmet gift basket that looks good, tastes good and IS good for you! The Gourmet Organic Gift Basket is USDA Organic and unbelievably delicious.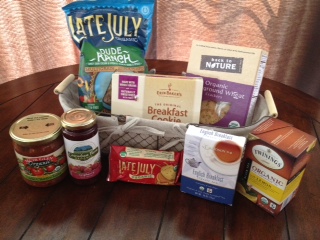 As always, the basket holding everything together is so cute and will definitely be used again in my house. With a rustic look to it having a dark wire frame and a cloth lining inside, it will go with almost any décor you choose.
Inside this gourmet USDA certified organic gift basket are many delicious goodies to devour! First are the Erin Baker's® Organic Mini Oatmeal Cookies. I actually have been bringing these with me every morning to work since I received this gift basket and they are very tasty and filling with my morning coffee. It's great to have a healthy organic snack that keeps me full enough till lunch.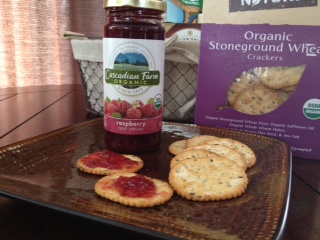 Adding to my ever-growing tea collection is the Davidson's® Organic English Breakfast Tea (8ct) and the Twining® Organic Lemon Tea (20ct). I swear with all the tea I've been getting and drinking, I'm going to live until I'm 120 years old! I love anything lemon or citrus though, so the Lemon tea was a personal favorite for me. I drank a few cups of the lemon tea while I enjoyed the very filling Late July® Organic Peanut Butter Sandwich Crackers! It was a great snack for the middle of the day.
One of the pictures on the site shows a combination of the Back to Nature® Organic Wheat Crackers and Cascadian Farms® Organic Raspberry Fruit Spread, so I decided I would try it out. So good! The spread is definitely organic and fresh, with bursts of raspberries! The combination was so delicious and reminded me of toast with jam. I tried to not eat the whole box of crackers in one setting because I don't want to run out of this perfect treat combination. And absolutely love that it's all organic, so I won't feel too guilty for how many crackers I devoured.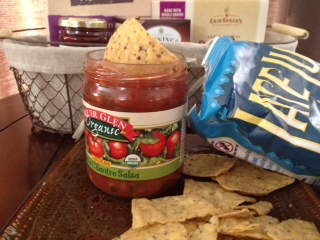 Last but definitely not least, there were the Late July® Organic Multi-grain Dude Ranch Chips and Muir Glen® Organic Garlic Cilantro Medium Salsa. An absolute stunning combination of fresh organic treats! The chips are great with this super fresh and flavorful salsa. Have I mentioned before that I am obsessed with anything cilantro? If you love fresh and delicious salsa, this will be your favorite gourmet organic snack found in this gift basket!
I can't sing enough of my praises for this awesome organic gift basket. Everything is stamped with the USDA certified Organic seal of approval and it will be very hard for you to not eat everything inside. Get this gift for your health-nut friend, or make it a great camping gift. This could be a perfect housewarming gift to start them off on the right foot, or for anyone who has a marathon coming up or even for you to try out all these delicious gourmet goodies inside!