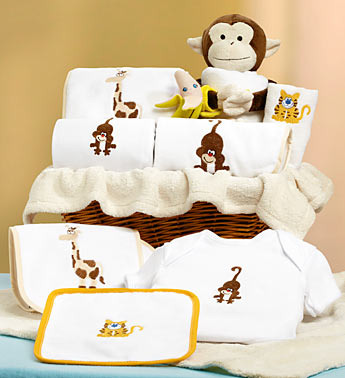 Welcome back!
Apparently the number 8 isn't too lucky for a few of you, so just stick to not walking under any ladders! Of course five of you commenters are in luck and will be receiving a giant fortune cookie! Congratulations to Gary Narberes (August 9, 2012 at 4:16 pm), Karen Koch (August 9, 2012 at 4:21 pm), Melissa (August 9,2012 at 4:51 pm), Elaine C. (August 10, 2012 at 10:49 am), and Suzanne (August 15, 2012 at 10:14 pm)! Send your shipping information to me at amariscal@1800flowers.com  and I'll send out your fortune cookies!
Is it just me or is the end of summer and beginning of fall "baby season"? I know a few people who are due around this time and nearly half of my family has a fall birthday. I realize there is a statistic about however many thousand people are born every minute, but in my small world, I feel like those minutes all gather around the change of the fall season. Feel free to let me know if it's the same or different for all of you!
I enjoy seeing the new name trends every year and guessing what influenced them (how many Katnisses do you think we'll get this year?). I would like to see more interesting trends for boy names. They get the short end of the stick, I think. Someone should start the petition for trendier boy names. Below are the top 10 names for girls and boys for the year 2011.
Top 10 Names for Girls 2011
Isabella (who saw that one coming…besides everyone)
Emma
Olivia (my hope is this was inspired by Olivia Newton John)
Sophia
Ava
Emily
Madison (I will never not think of the movie Splash when I see this name)
Abigail
Chloe
Mia
Top 10 Names for Boys 2011
Jacob (once again, color me shocked)
Ethan
Michael
Alexander (the Great!)
William (could shorten to Liam)
Joshua
Daniel
Jayden (Big Willy style, obviously)
Noah
Anthony
Of course with new babies on the way, comes baby showers and trying to find a gift that's useful while still being cute (personally all tiny things are cute to me, especially baby gym shoes that will never even touch a single sidewalk and will be grown out of within a month). We have all the most adorable new baby gifts you could imagine here, including my favorite monkey baby gift. However, for those of you currently planning baby showers, let's talk some fun and unique baby shower games so that no grown woman will ever have to smell a fake diaper with random mashed food in it again.
Baby shower game ideas:
Give your guests a list of television families and have guests list the children from the families. Some families to try: Full House, Brady Bunch, Arrested Development, Leave It To Beaver, Little House on the Prairie, Malcolm in the Middle, Partridge Family, Growing Pains, Bewitched, Step by Step, Cosby Show, Family Guy, The Simpsons, Family Ties, Modern Family.
Create a baby guide book with ideas from close family and friends. Sometime during the party, ask each guest to write down their name, relationship to new mom and then some helpful hints, baby advice, words of encouragement. This will be very helpful to new parents!
Cake Race. Have people race to build a diaper/baby gift cake using provided materials and reward those who finish first and/or have the most appealing diaper cake!
In the comments section (1-2 paragraphs) tell me your own ideas for baby shower games, new baby gift ideas, or some interesting and trendy baby names! FIVE lucky and random winners will receive a prize of their own.
Have a great weekend!