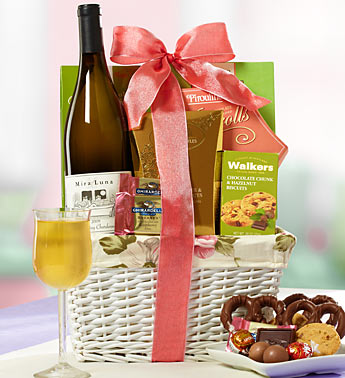 Welcome back readers!
I hope you all enjoyed my Mother's Day quiz last week! My mom would probably be an A. She's tried to be more of a B, but let's just say I feel safer being the one in the kitchen most times. There were a lot of great mom stories and memories in the comments section; sounds like you all grew up with some very special women in your lives. And for five of our commenters, they get even luckier with a delicious chocolate gift basket! Congratulations to Mary Cummings (May 4, 2012 at 5:06 pm), Janice Sloan (May 5, 2012 at 12:53 am), Janine White (May 6, 2012 at 1:19 pm), Jordan Robbins (May 8, 2012 at 3:06 pm), and Chris Hughart (May 10, 2012 at 4:42 am)! Please send your shipping information to me at amariscal@1800flowers.com and I can send out your Happy Mother's Day Godiva Gift Basket.
Mother's Day is this weekend! And if you remember from a couple of weeks ago, I promised my mom I would dedicate some labor time to her and help with gardening and some slight landscaping (yes, I'm already dreading waking up this weekend). Of course we all love our moms, they're great and they do a lot of nice stuff for us. But no matter how much you like your mom, at some point this weekend you will be stressed out or go a little crazy (except for maybe all of you lucky spa-goers). It's just the way that most holidays go, I didn't write the rules!  This is a mom's world and we're just living in it.
So for all of you who will be just as exhausted as I will be this Mother's Day, I found a few really fun drink recipes for you to enjoy (and I guess even share with your mom).
Tea Tini
A great drink for spring! You can use any sweet tea you prefer, but I think a nice fruity or floral tea would make this even better. I'm currently obsessed with Passion flavored Tazo Tea, which you can buy from any Starbucks.
Ingredients:
1 3/4 oz vodka
1 oz sweet iced tea
1/4 oz fresh lemon juice
lemon wedge for garnish
Directions:
Pour the ingredients into a cocktail shaker with ice cubes
Shake well
Strain into a chilled cocktail glass rimmed with sugar
Garnish with the lemon wedge
White Sangria
This is another great spring drink that will be refreshing and fun to drink. You can combine this with brunch or dinner. This recipe will serve 6 people.
Ingredients:
1 1/2 cup mixed colorful bite-size melon pieces
1/3 cup sugar
1 cup crisp white wine
1/4 cup brandy
3/4 cup sparkling water
Ice cubes
Lime for garnish
Directions:
Stir melon and sugar together in a large pitcher
Let stand for 15 to 30 minutes to draw out the juices.
Just before serving, stir wine, brandy, and sparkling water into the pitcher
Add ice cubes to glasses. Fill your glasses with the sangria, spooning some of the fruit into each glass. Garnish each drink with a slice of lime.
Mango Iced Tea
Here is our non-alcoholic spring drink that the whole family can enjoy. I love anything mango, so this may be a repeat drink for me for the rest of the warmer months. This recipe is for one glass, but you can just double, triple, etc. the ingredients to serve more!
Ingredients:
1 cup brewed organic green tea, chilled
1/4 cup fresh mango juice
1 tsp honey (organic honey tends to be a lot thinner and more easy to mix)
Ice cubes as needed
Directions:
In a large glass, combine the green tea and juice
Add the honey and stir well
Add ice cubes and serve immediately
If you've beat me in the category of procrastinating on picking up a Mother's Day gift, don't worry! Some of our select Mother's Day gifts are up to 30% off when you order before 3PM EST tomorrow 5/11/12! My three picks are below:
Mother's Day Mira Luna Wine Gift Basket: Fits perfectly with our plan to relax this weekend! A beautiful chocolate and wine gift basket, need I say more?
Moments of Relaxation Spa Gift Tower: Bring the spa home with this gift tower. The spa products are a relaxing cucumber melon scent and this gift also provides tea, cookies and spa accessories.
Mom's Wine Picnic Backpack Gift Basket: You've all seen this previously for our picnic blog, but it includes tasty foods and wine so I have to put it back on the list! Plus, we all agreed that picnics are the best, so really this gift is a no-brainer.
I hope you all have a wonderful Mother's Day weekend with a lot of great memories and some relaxing time with your loved ones. I'll be getting ready to turn in my delicate writing hands for a pair of green thumbs. After you're done enjoying the weekend, let me know in the comments section (1-2 paragraphs) how you relax. FIVE lucky and random commenters will win the Mother's Day Mira Luna Wine Gift Basket!
Happy Mother's Day!