To me, spring means a lot of bright happy colors, fresh flavors and sweet treats. All of this and more can be found in the Happy Mother's Day Deluxe Sweets Gift Tote.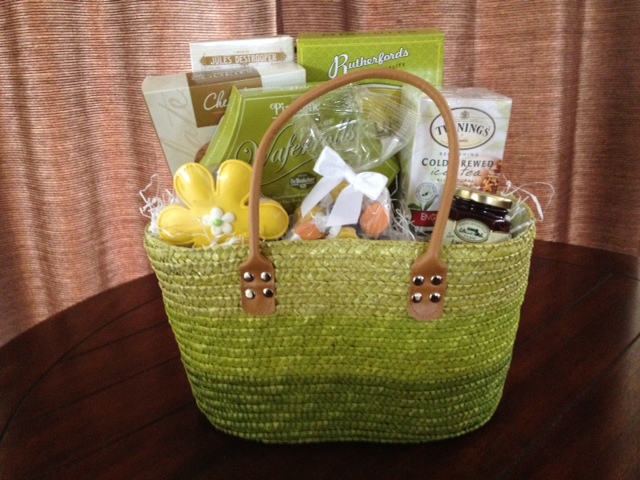 The very first thing you noticed about this original gift design is that it comes inside a bright and sturdy green tote bag and a bright yellow bow on top. The perfect spring tote is enough to make you fall for this delightful gift. Obviously this is going to be a very reusable gift to give. Looking at the gift basket gives me warm visions of beach trips, picnics and a cute new accessory for the upcoming warm months. I already have so many plans for ways to reuse this gift!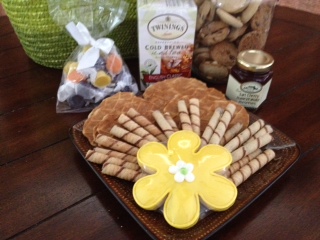 Of course, the gourmet sweets inside just add the pleasure of this unique gift basket. Inside this delicious gift are Cheryl's® Chocolate Chip Cookies (probably some of the best cookies anywhere!), DeBeukelaer® Pirouline® Wafer Rolls (I dare you to only eat two without devouring the rest), Jules Destrooper® Belgian Butter Crisps, a Daisy-shaped Iced Vanilla Sugar Cookie, a large bag of Spring Pastel Taffy, Eurostyle Biscuits (or a fancy word for more cookies), Robert Rothschild® Pomegranate & Tart Cherry Preserves, and Twinings® English Iced Tea.
I really enjoyed the Robert Rothschild® preserves, mostly because the only place I can seem to find this brand is usually at Fresh Market or Whole Foods. I thought it went best on the biscuits; a great mix of the buttery cookie and fresh fruit spread. I enjoyed this little combination with some of the iced tea. It made for a very relaxing Sunday afternoon and immediately felt like spring.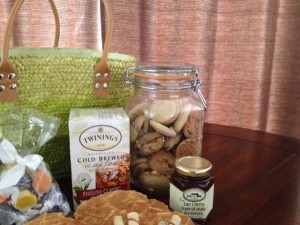 The daisy shaped frosted cookie is in a few other gift baskets that I've found here and I'm very happy about that. It's not an ordinary, throw-away sugar cookie, but it actually had ingredients that you know! Wheat, eggs, milk, sugar, and flour all top the list of ingredients, and you'll find other ingredients you can recognize as the list goes on. A very impressive cookie! I used this excuse to not feel bad when I demolished the cookie in less than a minute. The rest of the cookies have been added to my ever growing cookie jar where they are kept safe away from me. Thanks to the many gift baskets I've been receiving, I'll never go cookie-less again.
I would highly recommend this gift basket for any kind of occasion, whether it's a birthday gift, housewarming present, Mother's Day, or a "Just Because" or "Thinking of You" gift. Whoever receives this beautiful spring gift basket will love the goodies inside and be very happy to use the tote bag afterwards!