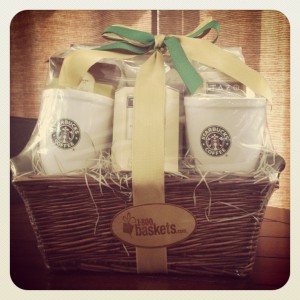 One of 1800baksets.com's best-selling gift baskets and it's clear to see why. Just about everyone loves coffee, and even better when it's from Starbucks. This Starbucks Break Time Coffee Gift Basket comes with a whole lot more than just coffee though, it's positively packed with all sorts of sweets, treats and extra gifts that will bring a smile to any coffee lover's face!
The first thing you notice about this bountiful coffee gift basket is the beautiful green and gold bow that sits wrapped around the contents, Starbucks® official colors. A real dark willow basket with wooden handles holds a variety of coffees, tea, cookies, mix boxes and two very large white Starbucks® logo coffee mugs. This gift basket seriously has everything you could ever want in a coffee gift basket, and is even very well color coordinated with the dark basket, white and tan coffee and treat contents and the green and gold bow completing the gift.
So let's examine what treats await us inside this supremely awesome coffee gift. Like I said, the two Starbucks® coffee mugs are huge! The coffee mugs are much larger than a normal cup and I can even fit my hand in them. This is a definite plus for when you need a large coffee or tea. These mugs will also come in handy when you want to add some marshmallows to your hot chocolate or dip biscotti in your morning coffee without spilling all over the place. Definitely one of my favorite parts of the coffee gift basket, and they're just mugs.
For coffee, they've included Starbucks® Espresso Whole Bean Coffee and Starbucks® Sumatra Ground Coffee. For the whole bean coffee, this is for those of us who are lucky enough to have our own coffee grinder and enjoy having super fresh coffee in the morning. For the rest of us, just go into your local Starbucks® and they will gladly grind the coffee for you for free! They've also thought about those times when it's either too late for coffee or you're just in need of a warm drink and included a packet of Tazo® Tea (Calm and Awake Flavors), Starbucks® Classic Fair Trade Cocoa, and Starbucks® Marshmallow Cocoa! And yes, I've already gotten to the hot chocolates and they are very delicious and chocolaty and they go perfect with the other goodies inside the Starbucks® gift basket! I haven't opened the tea yet…but that's because I already have a box of the Calm flavor that I had previous bought from Starbucks®!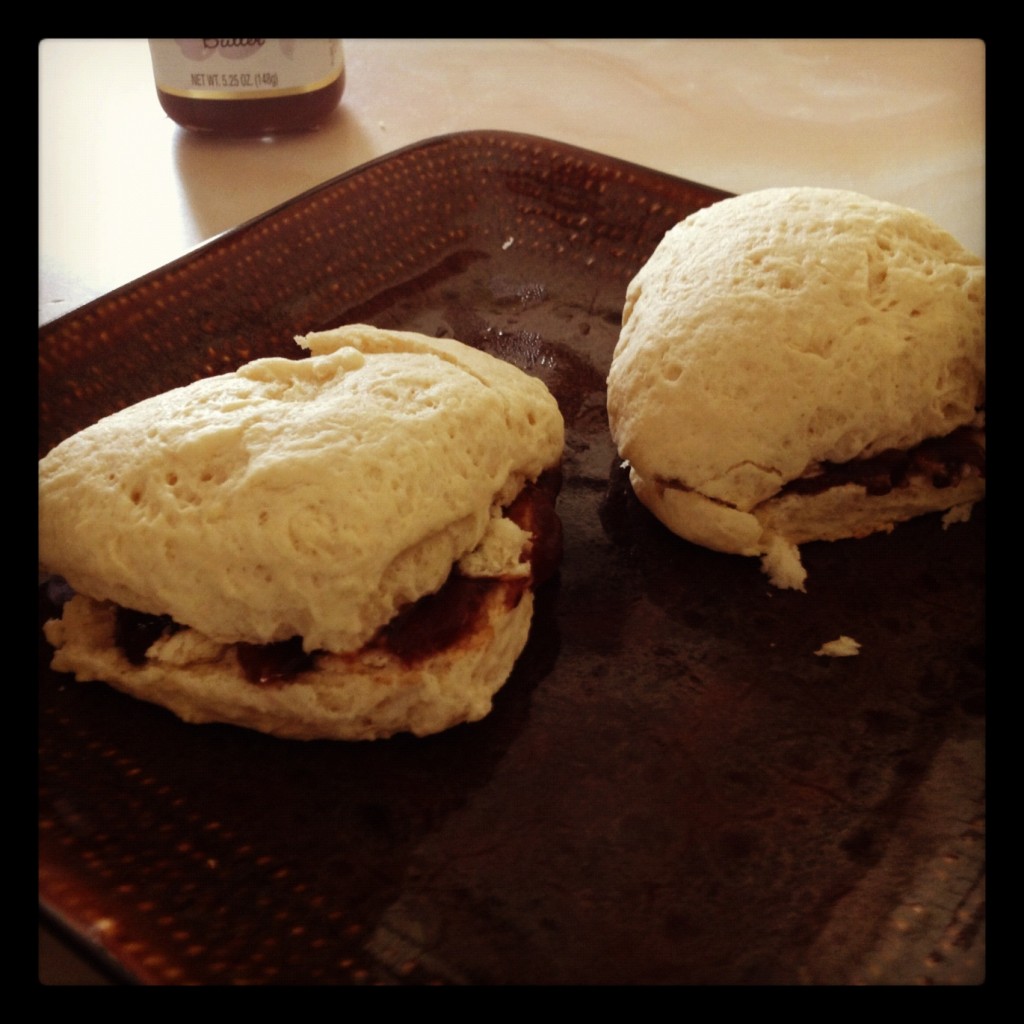 Now to the edible treats! Inside this Starbucks® coffee gift basket, they've graciously included Starbucks Selects® Vanilla Almond Biscotti, Starbucks Selects® Key Lime Cookies, Starbucks Selects® Honey Oat Biscuits, and my favorite part of all: Starbucks Selects® Scone Mix. I am just genuinely impressed that so many delicious treats are provided in this gift basket. The honey oat cookies are so flavorful and fresh tasting, I've already paired them with my own tea and they go perfectly together. I didn't even hold back when it came to the key lime cookies, they lasted all of five minutes and I wish I had them back already! There are plenty of the vanilla almond biscotti to go around, and I've already incorporated one into my breakfast coffee each morning that was the other part of the gift basket, I will definitely need to run out and grab more soon. But let's move on to what really impressed me, the scone mix. I decided to try my hand at making these and they came out perfectly (I'm attributing this more to the box mix than my ability to follow directions). I spread a little bit of butter and preserves, had them with some coffee…it was a delicious breakfast!
This Starbucks® coffee gift basket is the perfect gift for your coffee obsessed friends! Use it as a birthday gift, house warming present, a nice gift to celebrate a new job, when you get to the winter months it will be perfect for the holidays, no matter the occasion, this is the best gift basket to get!