Looking for a special way to say "Happy birthday," "Get well soon" or "Thank you" to that very important person in your life? Our #1 gift basket is the champion of presents: With its gorgeous packaging and delectable treats, it's no wonder the Deluxe Balsam Gift Basket is our customers' top pick! Take a sneak peek inside to see what makes this our most popular gift for every occasion.
The elegant hand-woven basket, made from natural willow and tied with a customized satin ribbon, makes a thoughtful statement for any life event—from birthdays to the loss of a loved one. Just pick the sentiment that best fits the occasion. There are five to choose from: Just Because, Happy Birthday, Thank You, With Sympathy, and Get Well. Everyone will love the basket's simple and graceful design, which fits in perfectly with any home décor.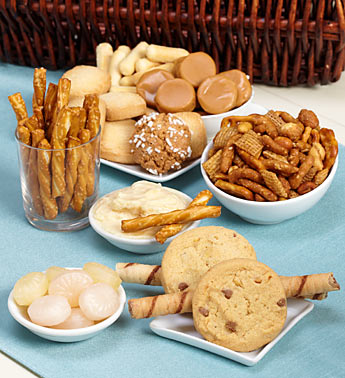 Brimming with an abundance of sweet and savory snacks, this gift basket doesn't just complement your loved one's decorative tastes; it satisfies their every food craving too.  The smoky mozzarella mini baguettes, Otis & Betty's Original Snack Mix, and crispy pretzel sticks included in the basket are perfect for anyone looking for a salty fix. On the flipside, the velvety Ghirardelli double chocolate cocoa, richWalker's chocolate chip hazelnut biscuits, crunchy Amaretti Virginia Italian cookies, creamy Debeukelaer Pirouline wafer rolls, and tasty Perugina Capri citrus and berry Italian candies will make anyone with a sweet tooth smile ear to ear.
So if you're in search of a gift for your #1 friend or family member, look no further. Give them the gift that all of our customers are raving about, and you're sure to make a big impression at your next important event!