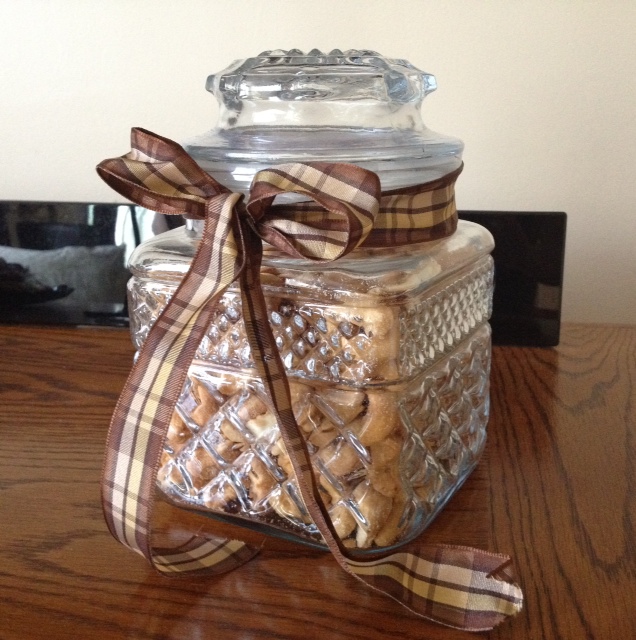 Of course our name is 1800Baskets.com but being the gifting experts that we are, we know the importance of gift variety! Our premium cashew gift may not be a gift basket, but it's definitely one of our favorites for Father's Day or any day! One of our healthier gifts, this Vintage Pressed Glass Jar with Jumbo Cashews is sure to please anyone lucky to receive it.
This cashew gift carries a great presentation, arriving in a sturdy pressed glass jar and tied with a brown and tan plaid ribbon for decor. The pressed glass jar is definitely reusable with a stay fresh seal in the lid, making the jar easy to refill and reuse. And I'm sure it will be reused very soon, because the cashews inside are beyond delicious. These plump, jumbo cashews are roasted and salted to perfection and make a great snack throughout your day. There are so many health benefits to cashews whether they've been roasted, salted, left raw or even dipped in chocolate, making them one incredible nut.
I'm sure me just saying cashews are great won't convince you, so I'll let the facts speak for themselves.
Cashew Facts
Cashew nuts are actually seeds. They're found growing on the end of the cashew apple in South American that is too fragile to export out of country!
Cashews are close relatives of mangos, pistachios, poison ivy and poison oak.
Cashews are packed with nutritional content like: 5 grams of protein per ounce and high levels of the essential minerals iron, magnesium, phosphorus, zinc, copper and manganese.
They have a fatty acid profile that contributes to lowering the risk of heart disease, combined with the nut's zero percent cholesterol content.
Even with the relatively high fat content, cashew nuts are considered to be a "low-fat" nut. In fact, cashew nuts contain less fat per serving than many other popular nuts commonly found in grocery stores and health food stores, including almonds, walnuts, peanuts and pecans.
Cashews have high dietary fiber.
They are filled with antioxidents! Cashew consumption helps the body utilize iron, eliminate free radicals, develop bone and connective tissue, and produce the skin and hair pigment melanin.