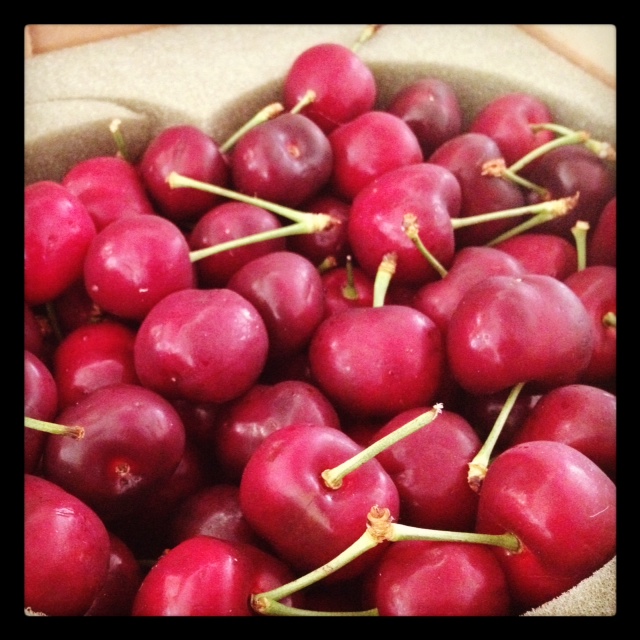 A 1800Baskets.com exclusive gift, our bright and succulent Bing cherries are the perfect gift for Summer! Keep a healthy gift in mind without compromising on great taste.
The Sweet & Succulent Summer Bing Cherry Gift Box was definitely a delicious surprise to receive. The box was still cold when it was delivered and inside was the largest, most flavorful farmer's market cherries I'd seen this summer. Varying in hues of bright red to deep maroon, all cherries were packed with decadent juicy flavor. Obviously I needed to sample a handful of the cherries as soon as I opened the box. They were too good to pass up. And you're all lucky I stopped myself in time to grab at least one picture.
This makes such a great gift for any health-minded friend and leaves them with endless possibilities to use their gift. They can be enjoyed as is, benefitting from the high antioxidants, vitamins and minerals. You can bake them in a pie, cobbler, or in any of your everyday cooking. Add them to any dessert for an additional treat; dipped in chocolate or with whipped cream, they're bound to please!
I've never been one for cherry pies, but this cherry cobbler recipe looked too good to not share!
Ingredients
1/2 cup butter
1 cup all-purpose flour
1 cup white sugar
1 teaspoon baking powder
1 cup milk
2 cups pitted sour cherries
3/4 cup white sugar
1 tablespoon all-purpose flour
Directions
Preheat the oven to 350 degrees F. Place the butter in a 9×13 inch baking dish, and place in the oven to melt while the oven is preheating. Remove as soon as butter has melted, about 5 minutes.
In a medium bowl, stir together 1 cup of flour, 1 cup of sugar, and baking powder. Mix in the milk until well blended, then pour the batter into the pan over the butter. Do not stir.
Rinse out the bowl from the batter, and dry. Place cherries into the bowl, and toss with the remaining 3/4 cup of sugar and 1 tablespoon of flour. Distribute the cherry mixture evenly over the batter. Do not stir.
Bake for 50 to 60 minutes in the preheated oven, until golden brown. A toothpick inserted into the cobber should come out clean.