In May, we celebrated the delectable toasted coconut macaroon. Today, we taught the frills and delights of its French cousin, also named the macaroon. Gorgeously vibrant in orange, purple, blue and any color you can think of, these airy pastries are as art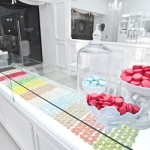 ful as they are tasteful.
There are even whole gallery-like shops, maisons, and cafes dedicated to sating the demands of its fanfare.
Want your next gift to be fancy and full of frills? Send a friend a macaroon.  But don't stand in line, silly.  We have them for sale right here.
Our macaroons are baked and shipped to your home from our partner, Dana's Bakery. (We only source the best, of course.) Each gift box is tied with vibrant satin ribbon to add all the more jazz to an already perfect gift. Bon Appetit!