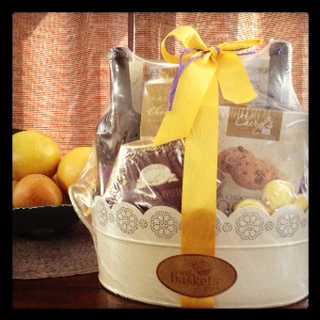 All I have to say about this wine gift basket is WOW! Okay, I have a lot more to say about this gift; otherwise the blog post would only be that sentence.
This is the Flowers of Spring Wine Gift Basket (and also one of the many reasons I love that my job is writing about gift baskets). It is a beautiful wine gift basket that comes with two bottles of Blair Family® Red Table Wine, Cheryl's Dark Chocolate Chip cookies (yum!), Butter Crisps cookies, Chocolate Crème Filled cookies, Eurostyle Biscuits (aka more cookies), one big flower shaped, frosted cookie, and then some Lentil Chips and Cheese Spread for when you're sugared out! All of these gift basket treats are nestled tightly inside a gorgeous white metal gift basket that has floral decorated cut-outs on the top of the container. Of course, I want to talk about some of the individual gift basket contents that I thought were really amazing.
Being the nice person that I am, I shared most of the gift basket with my family.  First we opened a bottle of the Blair Family® Red Table Wine. I'll be honest; I have a limited knowledge of wine. I can look up pairing information and taste wines and determine which bottles I like and don't like. So it's always a relief for me when someone else does the pairing for me, which is exactly what this wine gift basket does. This red wine is a bit heavy and has a layered taste of warm vanilla and a hint of coffee. Lucky for me, it paired perfectly with the arrangement of cookies. My personal favorite pairing would be the Butter Crisps cookies. I could also see this as being good over a dinner involving beef or steak. It seems to be one of those very complementing wines to whatever you pair it with. A very tasty wine as well, which is definitely what you're looking for in a wine gift basket. Once again, more than grateful that this wine gift basket already took care of the pairing suggestions for me!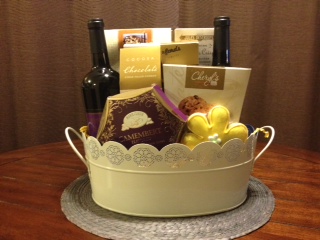 Obviously, I'll have to talk about the cookies and my restraint to not eat every crumb from the gift basket. I had a taste of each cookie and immediately put them all in a cookie jar so that I would not be tempted. Inside the gift basket is a box of Cheryl's Dark Chocolate Chip cookies which are crunchy, buttery and absolutely divine with the mixture of dark chocolate chips. The Chocolate Crème Filled cookies were a great surprise with the chocolate inside chocolate more fudge like. The Eurostyle Biscuits make great butter cookies and I would suggest a nice glass of milk with them to take down the crunchiness of the cookie. The Butter Crisps cookies were delicious, a lot larger than I thought they would be, and I nearly finished them upon opening the gift basket. I was very surprised with the flower shaped frosted cookie that is featured in the front of the gift basket. I checked out the nutrition information on the back of the plastic and discovered that it was made with all materials that I knew by name! (So rare to find in a sugar cookie these days) Wheat, eggs, milk, sugar, and flour all top the list of ingredients, and you'll find other ingredients you can recognize as the list goes on. A very impressive cookie!
I only tried a little bit of the lentil chips and cheese spread, but they too are a perfect pairing for the two lovely red bottles found in this wine gift basket. The lentil chips were light and airy and the cheese very creamy. It was a perfect combination and just the snack needed after a sugar overload!

If you have anyone with a birthday coming up, maybe a housewarming party on the horizon, this is a definitely go-to gift that I would highly recommend. And who knows, maybe they'll be just as nice as I was and share with you!