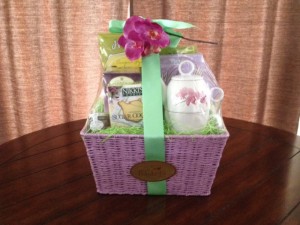 I couldn't have come up with a more perfect name for this beautiful spring-time gift basket. The Delightfully Decadent Tea Gift Basket makes for the best tea-time gift set for anyone who enjoys the sweet spring season or a relaxing afternoon tea.
This tea gift basket is very striking at first sight, showing a softly woven lavender basket, with a gorgeous faux orchid floral decoration and pastel green ribbon bow holding everything together. It's very feminine and embodies the spring season. Even better than its appearance are the many delicious and elegant surprises inside this gift basket holds inside. The most striking gift inside the basket is the 3-piece stoneware tea-for-one teapot, lid and cup set! I had no idea when I first saw the gift basket that it was an all-inclusive tea set; I thought it was only a decorated tea pot. This delicately decorated white and orchid tea set comes as a fitted set with the generously sized tea cup acting as base. I really enjoyed how the orchid decoration on the gift basket perfectly matched the detailed orchid decoration on the tea set.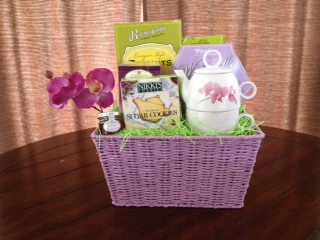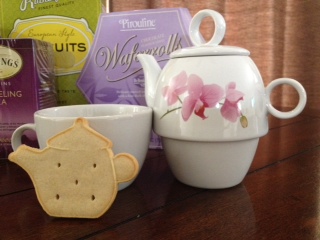 Also inside this lovely tea gift basket are Almond French Twists, which are small rolled cookies that go great with both tea and coffee. There is also a very helpful serving of DeBeukelaer® Pirouline® Wafer Rolls; a flaky and buttery outside with creamy chocolate centers. You'll be happy they included so many wafer rolls if you're sharing this tasty gift (like a certain nice product reviewer) or be glad there are so many cookies even if you're keeping this all to yourself!
Inside the gift basket is a very large box of Eurostyle Biscuits, so buttery and delicious, and enough to fill up half of my cookie jar (after I ate about five of them)! Sticking with the theme of a delightful tea party in a gift basket, they've included Nikki's® Teapot-shaped Sugar Cookies. So adorable and extremely delicious, these cookies make a perfect small sweet for your side of tea.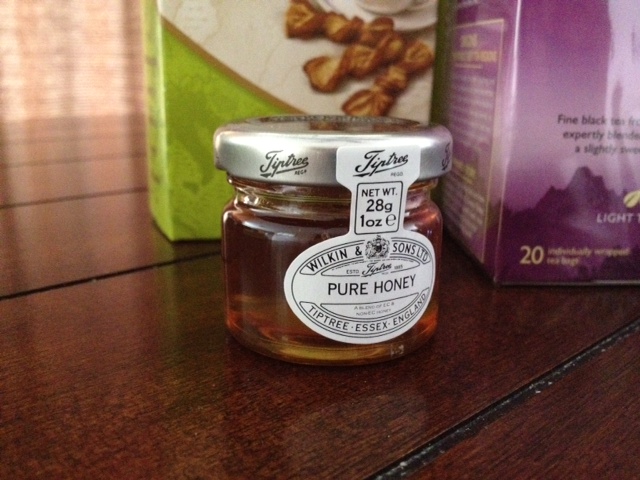 Of course, this wouldn't be a tea gift basket without some delicious tea and honey! This gift basket includes a box of Twinings® Darjeeling Tea, which boasts a mild and relaxing flavor perfect for afternoon tea-time or a late night cup of tea. The Darjeeling tea is perfectly matched with the small Tiptree® Honey Jar that is also included, with a very sweet and organic taste.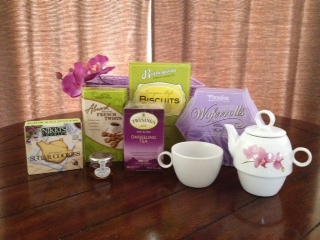 The Delightfully Decadent Tea Gift Basket would be a really great gift for any tea lover or someone who is need of a relaxing afternoon. I could see this as being an excellent house warming present or better yet, an amazing gift for Mom! Add a nice bouquet of flowers, pastries, or extra boxes of tea to this tea gift set and make it an extra special bundle gift for Mother's Day, Birthdays, or a "Thinking of You" present.