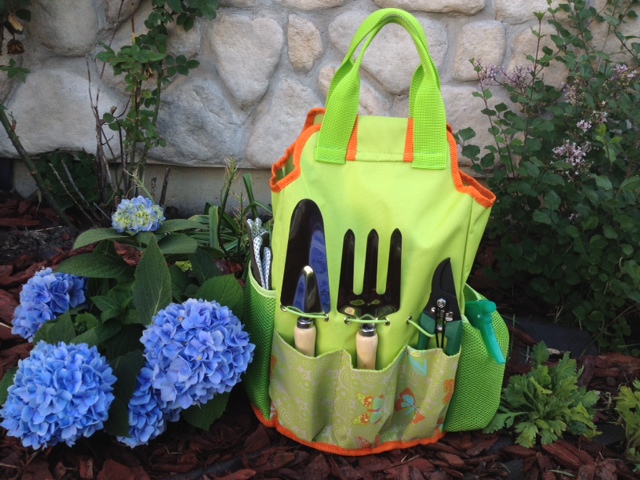 The best thing about spring has to be all the fresh flowers and gardens blooming to life. There is something about those fresh floral fragrances in the air that completes the feeling of spring for me. This past Mother's Day, I decided I would help out my Mom in the yard and get her some pretty flowers and plants to add to her garden. To make the day extra special, I also included this wonderfully original gift, the Gourmet Garden Tote with Tools Gift Basket!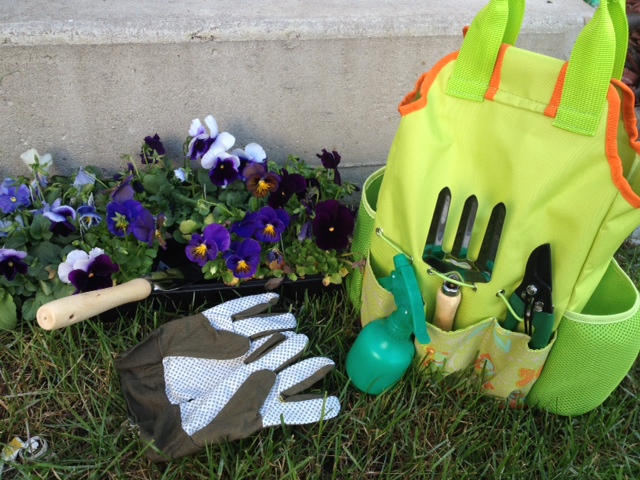 Green has definitely been the color this season, and this adorable and handy Gourmet Garden Tote is bright, sweet and a real treat. The tote is bright green with several helpful pockets carrying a variety of useful garden tools. In this Garden Gift Basket, you'll find: pruners, gardening gloves (definitely came in handy for pesky weeds that needed to be pulled!), wide trowel, narrow trowel, hand hoe, hand rake, hand fork, and spray bottle. My mom is always misplacing or losing her gardening tools, so these new tools with wooden handles were of great use to both of us on Mother's Day. All the tools were very sturdy and easy to use. I stuck with the wide trowel and hand rake for a good portion of the morning, while trying to transplant a new gardenia bush I bought for my Mom. I may have also used the spray bottle to cool myself down more than I actually watered the new plants, because it was way too hot out for an early May date.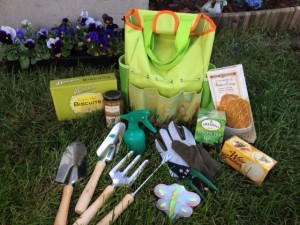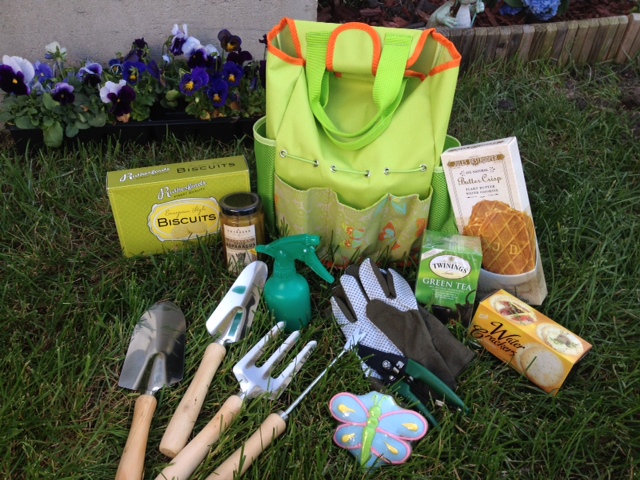 Even if the gift basket just included gardening tools, this would be a superb gift. But lucky us, there were many gourmet treats inside to devour! We put the Jules Destrooper® Butter Crisps and Eurostyle Biscuits into our ever-growing cookie jar, as we've already tasted both of these before. The Dragonfly-shaped Iced Sugar Cookie (or butterfly depending on how you look at it) is the same kind of surprise I encountered with a few other gift basket cookies. I actually knew all the ingredients on the back like wheat, eggs, flour, sugar, etc. It's always a great surprise when the cookie you've been eyeing is actually made from real foods and not some simulated conveyer. Of course, seeing as this is a gift to my mom, I let her keep the cookie. It took great restraint though!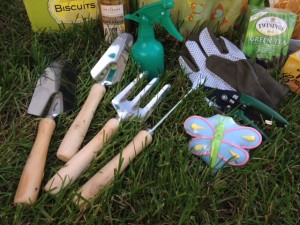 Also inside this gourmet gift basket are Elki® Sesame Water Crackers, Princess® Pickled Spicy Asparagus, and Twinings® Green Tea. I tried the asparagus on top of the water crackers, and it may not be for everyone seeing as it's a more spicy treat. My taste buds have already been singed years ago by all the spicy foods I eat, so I can no longer tell what anyone else can handle.
I highly recommend this gift for any garden-savvy Mom who loves a great gourmet treat for their hard days' work! It was definitely one of my best gifts for my Mom this Mother's Day, and I'm sure it will be enjoyed for many more gardening days to come!