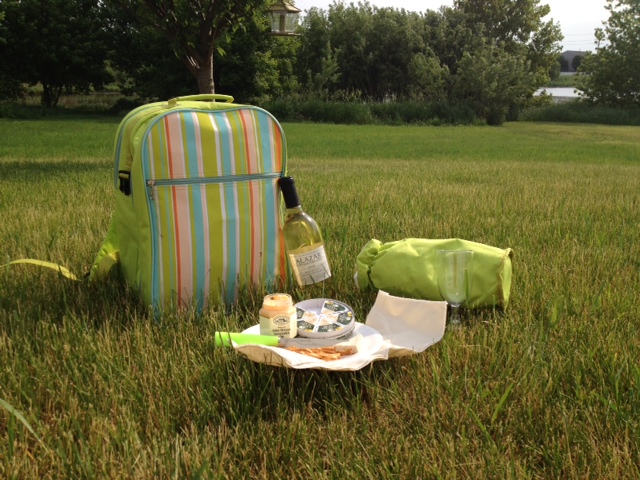 Another great, unique gift basket that is begging to be brought out! One of my most exciting gifts to review was definitely the Wine Picnic Backpack Gift Basket.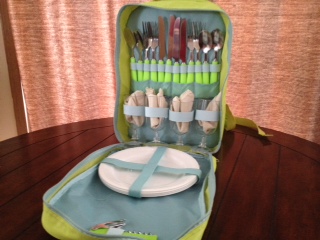 All nestled inside this bright, stylish, spring-like green backpack are many of gourmet goodies galore. First though, let's talk about the actual backpack. It's perfect for a picnic on the go and very comfortable to carry. The bright green and spring stripe colors are inspired by the fresh season and inside it even has a detachable beverage bottle cooler bag (of course for our gift, is carrying a great bottle of wine).
This gift basket is so unique, in that it comes with literally everything you need for your on-the-go-picnic. Inside the backpack, there is partyware for four people including spoons, forks, knives, plastic wine glasses, cloth dinner napkins and plastic plates. Easy to take along and ready to be used!
The gourmet gifts inside this incredible gift basket set the tone for a fun filled-gourmet picnic. Gourmet foods include Honey Wheat Pretzel Braids, Jules Destrooper® Belgian Butter Crisps, Almond French Twists, Eurostyle Biscuits (which have completely taken over my cookie jar!), Robert Rothschild® Onion Blossom Horseradish Dip (which is absolutely wonderful with the pretzel sticks and I may be using this for other foods like onion rings, fries, anything I can eat, etc.), and Sonoma Jack's® Garlic & Herb Cheese. All of the snacks complement each other perfectly, and from my own personal picnic, taste amazing together.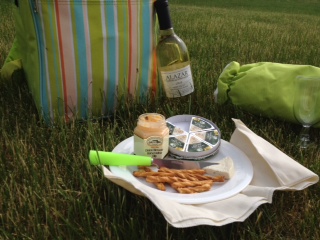 Of course my favorite treat in this picnic gift basket was the 2545® Cellars 2009 Chardonnay Wine. A beautiful white wine that is deeply aromatic with floral notes of candied peaches and roses. Great acidity on the finish, with a good balance and body, it was the perfect wine to accompany this gourmet gift basket. Best when served chilled.
I decided to take this picnic gift basket out as a wine and cheese picnic, and was very pleased with the matching of gourmet foods to the crisp wine. This would make for a great gift to be shared, or taken out with friends with the promise of a fun picnic out in the park!  This would also make for a great housewarming present, a thank you gift for a dear friend or teacher who needs a break, or something to pick up for yourself with the promise of a fun trip to come!