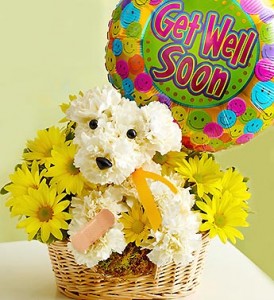 Whenever you need a helping hand or just someone to share a good laugh with, your best friend always comes to your rescue. So when your BFFL finds herself in the hospital, it's time to give her some extra lovin' in return for all those times she's stood by you. Whether your friend is recovering from surgery or having a bouncing new baby, the hospital isn't exactly the snuggest place to stay. So as her trusty sidekick, you can help her feel more at home by putting together a thoughtful care package. Here are some hospital care package ideas that will get your friend back on her feet in no time!
Ease the Road to Recovery
Staying in a hospital because of surgery or illness means spending a lot of time alone in a dull environment. Lucky for your amiga, you know how to make her smile in any situation, and this is no exception. Bring the comforts of home to her hospital room and help her painlessly pass the time with these fun, practical gifts: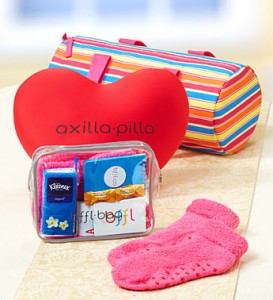 BFFLBags Care & Comfort Get Well Essentials Bag for Her (there's one for him too!)
Cozy pajamas, robe and slippers
Soft, comfy blanket and pillow cases
Lip balm and body lotion (dry hospital air can leave your friend's skin feeling parched)
Antibacterial gel
MP3 player with headphones
Portable DVD player and movies
Novels and magazines (or they can borrow your e-reader/tablet)
Puzzle books and brain games
Snacks (treat your friend to all the munchies she desires with the Friend on the Mend Doctor's House Call Kit … if it's allowed by doctors, of course)
Flowers, picture frames and cheerful decorations
Pamper the New Mommy
With so many pictures being snapped of the proud new mama and her bundle of joy, having a baby is an exciting time for your friend … but sometimes the hospital stay can be anything but glamorous. Who better than you to lift her spirits with a fun makeover? Help her get ready for those close-ups and keep her feeling refreshed with these revitalizing indulgences:
BFFLBags It's Time! Mommy's Maternity Essentials Bag
Stylish nursing shirts and pajamas
Disposable camera
Makeup
Nail polish
Facial cleansing cloths
Soothing aromatic candles (your friend will feel especially loved and relaxed when you give her the Good Friends Candle and Stand Set)
Dry shampoo
Gift card to mommy's favorite restaurant (there won't be much time for cooking now that baby's here!)
Gift certificate for house cleaning services
Has your BFFL ever had to make a trip to the hospital? How did you make her feel comfortable while she recuperated?