Hello Gift Basket Fans! 
Our work picnic yesterday was great! A little hot out (especially after a few rounds of sand volleyball), but it was a fun change to be outside. Plus, it gave all of you some extra time to submit your comments! I think a lot of us agreed that food is the way to go in most cases, but it doesn't hurt to get a little trinket to remind you of what great gift givers you have around you. Speaking of gift giving, I have a few gift baskets to award now. Congratulations to Gita (July 26, 2012 at 12:06 pm), Julie H (July 19, 2012 at 7:49 pm), Clara Ray (July 26, 2012 at 11:05 am), Teresa (July 19, 2012 at 11:18 pm), and Olivia (July 27, 2012 at 7:45 am)! You will all be receiving the All Smiles Gift Basket that comes with a $10 gift to use on your next purchase so you can choose which gift basket is right for you! Email your information to me at amariscal@1800flowers.com and I'll get your gift baskets out to you.
Today (and well let's be honest, the next two weeks) I am ALL over the Olympics! I'm counting down to the Opening Ceremony tonight, what surprises they'll pull out, what secret thing David Beckham is doing for the ceremony, if there will be some mention of Harry Potter since the director is creating this whole thing (a girl can dream). Either way, 7:30 I will be tuning in. Also tuning in for Swimming, Track & Field, Gymnastics (how do they DO that?), Volleyball, and probably a few more events that catch my attention. All from the comfort of my couch of course. The Olympics (and watching any kind of sport in general) goes one of two ways for me, either I get really motivated to be active or I just watched, amazed, while eating very delicious non-Olympian food.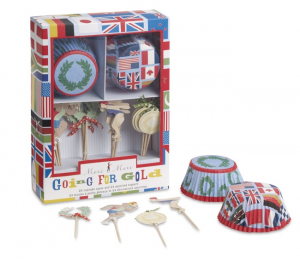 And it's looking like this year will be falling into the latter category, especially after I found these adorable Olympics cupcake decorations from Williams-Sonoma. Yes, I know, making and eating cupcakes while watching the best athletes in the world from my television. If I make it into a viewing party with other people to help me eat these, would that make it better?
Are you going to have your own Olympics viewing party? Let me suggest one of my favorite desserts to include at your party. Our Junior's Red Velvet Cheesecake! It's got red and white, so there's your patriotic colors. And have I ever mentioned how sinfully delicious this cake is? Very creamy without being too sweet, the red velvet crumble on top and sides, plus the cake portion mixes very well, and there is plenty in one cake to share! I had it for my birthday to be served to my whole family (aunts, uncles, grandparents, the whole 9 yards) and we have all sworn by it's delectable nature since. 1800Baskets has also been running a special for 20% off, so now you really can't say no! I promise, your party guests will absolutely love it.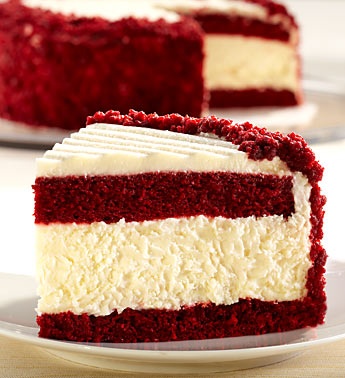 We still have our Stars & Stripes Chocolate Covered Strawberries ready to order. And you can read a full review from me (along with some pictures!) here in a previous post!
You can find the Olympics Event schedule here.
Now tell me: In the comments section (1-2 paragraphs), which Olympic event are you looking forward to and why? FIVE lucky commenters will win a special prize next week!
Have a great weekend and happy Olympics!