Welcome Back Basket Readers,
Thanks for bearing with my late post earlier this week and the kind messages. Aside from some annoying allergies, I and my car are doing a lot better (who knew cars were allergic to pollen)! Also, congratulations to any of you who were lucky to win one of the truffle cake pops in our Facebook Sweet Spring Sweepstakes! Personally, I can't be trusted to be alone with the cake pops for fear of eating them all and putting myself in a sugar coma; just know that I am very jealous of all of you who won. One more thing before we get on with the show, we've had a slight change in our shipping process over here and I know a few of you have emailed about your winning gift baskets. If you're a blog winner who still hasn't received their prize, please email me at amariscal@1800flowers.com with your name, the blog date you won and the gift, so I can track and correct anything that needs to be fixed!
Easter! It's a great family holiday with lots of delightful treats to it. I'm also convinced that everyone wised up to the incredible egg and decided that we needed a holiday to celebrate how insanely delicious it is no matter what time of day it is (just go with it)!
I thought it would be fun to write about how to plan a DIY Easter party this week, so let's jump in. Decorations are essential to any party, and lucky for us, I found this super cute, cheap, and easy idea to brighten up any Easter celebration. Modern Parents Messy Kids has come up with a creative way to use paint and pantone chips as colorful "DIY Egg Garland." All you need for this easy activity is a hearty collection of paint chips (very easy to pick up at your local home improvement store!), scissor, hole punch, and string! Check out the blog for the DIY details, and enjoy this cute pic tutorial below: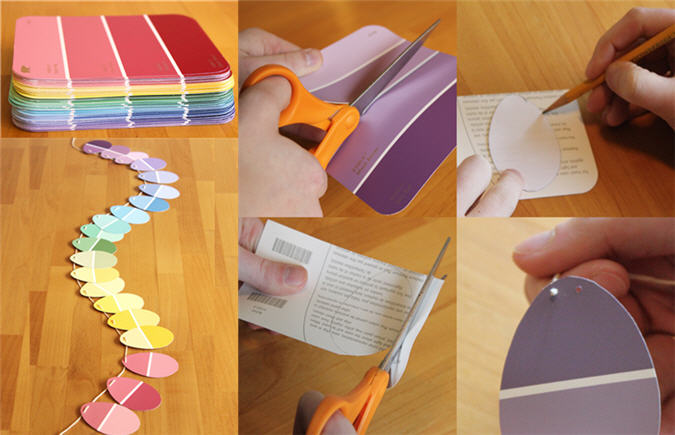 Our Easter gift baskets make for festive and fun center pieces for your Easter party. Filled with lots of delicious chocolates and treats it will be hard not to touch, but you can incorporate them into the day's activities as game prizes (see later in the post)! My top picks for the party: The Happy Easter Cuddle Plush Bunny Gift Basket, Flowers of Spring Gift Basket, and the Blooming Spring Sweets Basket. They'll be extremely excited to win one of these great gift baskets!
So, Easter is pretty much the one holiday I can get away with eating all the deviled eggs I want without (too much) regret. It's a holiday staple, but Foodjimoto offers a cute and simple "Doh! Why didn't I think of that?" way to make them festive. Use the eggs that you color the night before for your deviled eggs! It adds a great pop of color and interest to a regular dish.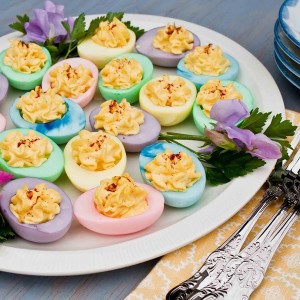 You'll need some activities during the party to keep it fun, especially if there's an abundance of young kids with short attention spans!
Easter Egg Hunt (Duh, Alex!)
DIY Bunny Ears: Pick up a bunch of $1 head bands, pastel color felt (make sure to pre-cut it in bunny ear shapes), colorful pipe cleaners, glitter and durable fabric glue. Kids can glue the felt to the pipe cleaners so that they can shape the ears, decorate with glitter, and attach to the headbands.
Pin the Ears on the Bunny: Just like pin the tail on the donkey, but you know…
Guessing for Prizes: Fill some baskets or jars with M&Ms or foil-wrapped chocolates, let everyone guess the amount of pieces in there and reward the top 3 closest guesses with Easter baskets!
Well, there is more than enough to do here! But if any of you are still looking for more ideas, let's take it to the comments and help each other out. In the comments section (1-2 paragraphs) let us know what sort of fun Easter activities (for adults or children or both!) you can come up with! FIVE lucky and random winners will receive the Flowers of Spring Gift Basket.
Happy planning!