Welcome back readers,
Father's Day weekend is here, and I spent the last few weeks drumming up gifts for Father's Day, so I hope you have yours picked out by now! If not, you can always check back on our posts for some great ideas here, here, and here. Don't forget the comments section for some really great ideas for Dad! For now I'll announce our weekly winners and we'll move on to one of my favorite topics: picnics! Congratulations to Pamela Hansen (June 8, 2012 at 8:23 am), Stacey Ellis (June 8, 2012 at 10:23 am), Jean C (June 8, 2012 at 10:28 am), Melissa (June 14, 2012 at 10:39 am), and Tiffany (June 14, 2012 at 3:24 pm)! Please send your shipping information to me at amariscal@1800flowers.com and I'll send out your Crabtree & Evelyn® Nomad Traveler for Men.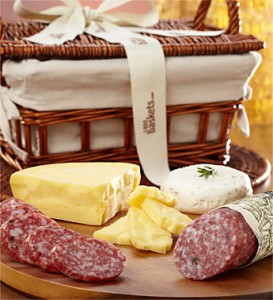 My love of picnics is no secret, especially on here when we always have so many amazing gourmet gift baskets and food gifts to use for fun summer outings. Summer is in full force right now and I can't imagine not wanting to enjoy the great outdoors, even if it's just your local park or backyard and a basket of food. These days of nice weather will only be here for so long, and I'm dedicated to making the most of them. We've already talked about essentials to bring on your next picnic and a few fun dishes, but our sister brand Celebrations.com has so many delicious recipes for quick and easy finger foods as well as downright decadent desserts that I need to share with all of you!
Picnics should be about easy fun on the go. There's no need to get super complicated with the meals you prepare or how much stuff you need to bring. Of course, that doesn't mean that you can't make them fun or seasonal. Which is why I'm currently obsessed with Celebration.com's finger sandwiches collection.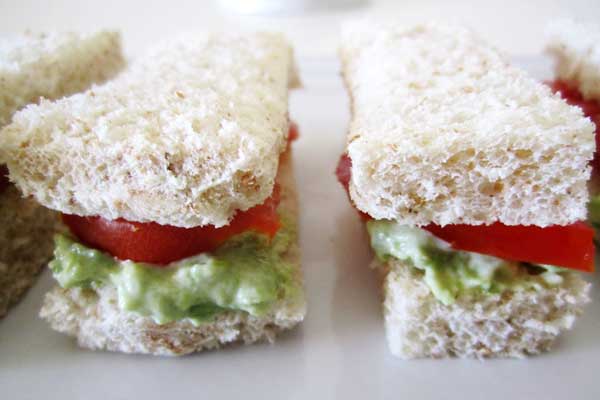 You better believe that the Mini Grilled Cheese sandwiches will be a key player at all my summertime functions. Asiago, Parmesan, Fontina, Provolone, arugula, and truffle oil! I am in culinary heaven right now. I just bought a new bottle of truffle oil that I've been cooking everything in lately, so this is definitely my favorite sandwich of the set. Their Avocado and Tomato Finger Sandwiches are a close runner-up, because I have a lifetime commitment to all things avocado. It's so simple, fresh, and you'll never feel any guilt with eating your fair share of these delicate treats!
Check out more of their Tea Time and Finger Sandwich recipes here, and don't miss out on their Top 10 Picnic Food Ideas here!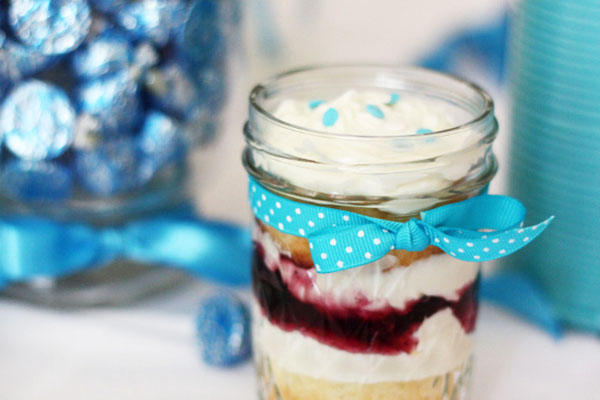 For a cute and creative dessert that I am definitely trying out this weekend, are Celebration's Blueberry Cupcakes in a Jar. It looks decadent but also incredibly easy to make. I have a feeling I'll be trying out all of their Cupcake Ideas here.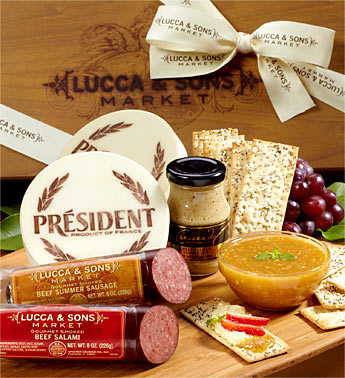 Going back to the simplicity of picnics, you can always find something you love with our collection of gourmet gift baskets. Every gift basket is packed with gourmet foods, sides, and fun treats inside for you to try out. And all items complement each other perfectly. Everything is there waiting for you to pick it up and go! Since it's summertime, I'm leaning towards some fresh orchard fruit and cheese gift baskets, or flavorful and hearty meat and cheese gift baskets, and of course some very tasty wine gift baskets. Take any of these out for a gourmet getaway one afternoon:
In the comments section (1-2 paragraphs) tell me which of these gifts you would pick for your picnic and things you would pair with them! FIVE  lucky and random winners will receive the Lucca & Sons™ Deluxe Meat & Cheese Box!
Have a safe and happy Father's Day weekend!