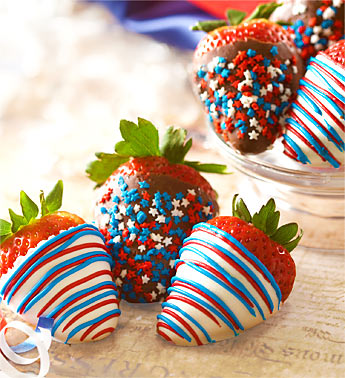 Welcome back readers,
I promise I'll hold off on the picnic blogs for a while now, I think I got it all out of my system (at least until I try all of your suggestions out). But please let me know if any of you try out your own picnic ideas or the delicious recipes featured last week, and send pictures! We have some winners to announce who can be our first to try out the picnic ideas. Congratulations to Jean C (June 14, 2012 at 8:18 pm), bessie burnsed (June 15, 2012 at 11:05 am), Ashley (June 16, 2012 at 5:19 pm), Kristen eby (June 18, 2012 at 1:11 am), and Jessica Beard (June 18, 2012 at 2:56 pm)! Please email your info to me at amariscal@1800flowers.com and I can send out your prize! 
We're so close to July, which is crazy to me because I feel like May was just yesterday! July is the month for camping, barbeques, and tons of outdoor summer parties. And we have our biggest summer party coming up: Fourth of July! What could be better than some fun in the sun, celebrating with red, white, and blue? Also a Fourth of July party means one of my favorite things about summer: Fireworks. There is something very right about enjoying something off the grill, a patriotic dessert and colorful fireworks against the night sky. So let's get planning with some awesome Fourth of July party ideas!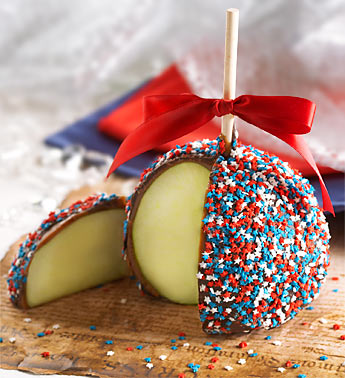 Our sister brand Celebrations has a great piece on decoration for a 4th of July brunch here. I think there are so many fun ways to incorporate the festive patriotic colors into your designs, like checkered table cloths with solid colored plates. Or utilize this fun and festive stars and lantern lights at your Fourth of July bash! (Both found at Target). Even better is this party gear kit with fun patriotic hats and décor!
This is going to be a very short post, because sometimes certain bloggers get very busy and also want to get more ideas from their very gracious readers!
In the comments section below (1-2 paragraphs) tell me how you would incorporate the following products (and the previous decor if you want!) in your own Fourth of July party! Five winners will receive the chocolate covered strawberries!
Have a great weekend of planning!