Welcome back readers,
I hope you all enjoyed the picnic post, because I seriously loved reading all your own ideas and recipes (I will definitely be remembering that frisbee/plate tip)! I feel very confident that all FIVE lucky and random winners will be putting this picnic gift basket to good use. Congratulations to Melissa (April 12, 2012 at 1:40 pm), Sharon R (April 12, 2012 at 1:59 pm), Riyan (April 12, 2012 at 8:44 pm), Shannon Schulte (April 13, 2012 at 8:44 pm), and Diana (April 15, 2012 at 9:18 am)! Email your shipping info to me at amariscal@1800flowers.com and I'll send out your picnic gift basket!
As I'm sure you all have starred on your calendars, Earth Day is this Sunday! It's truly important for all of us to know and be aware of how we impact our home and figure out ways to be more environmentally friendly. At 1800Baskets.com, we try to be as environmentally conscious as we can be. We love that our gift baskets can always serve another purpose when the products are gone, and most (if not all) of our gift basket content can be recycled! We even try to sell eco-friendly gifts at affordable prices.
Recently I was looking around for a small cleansing gift for a friend, so I figured I would check out our spa gift basket section. I just noticed that we started selling products and gift baskets from Crabtree & Evelyn! All natural materials, very environmentally conscious, and they come in such cute and stylish containers. Obviously, I have to have these (especially the avocado products!).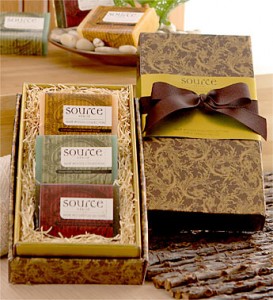 We also have a ton of Source Vérité gift baskets in our spa gift baskets collection. I wanted something a bit smaller though, and I saw these eco-friendly soaps that I thought could be a cute host/hostess gift or just something I could add to my stock pile for Mother's Day gifts.
If you want to have fun with this weekend (or even week!) check out our friends at Cheryl's who have an awesome idea for an Earth Day Party!
Want to get started on how you can do small or large things to help the environment this Earth Day without having to drastically change your life? Small changes help just as much as large changes, and it will be easier to stick with when it doesn't affect you or cause extra work! We found this cool list of how to help here, so I'll just highlight the very simple ones:
Change your lightbulbs
Turn off electronics (especially computers!) at night when you're not using them
Don't rinse your dishes before putting them in the dishwasher
Recycle glass products
Go vegetarian at least once a week
Use one less paper napkin when you go out to eat
Wash your clothes in cold or warm water
Recycle newspapers
Plant a tree!
Use cruise control while driving to get up to 15% better gas mileage!
And many more great ideas here at 50 Ways To Help
So tell me in the comments section (1-2 paragraphs) in what ways you give back the environment or ways that you plan to start! FIVE lucky and random winners will be taking home Crabtree & Evelyn Avocado Sampler!
Happy early Earth Day!