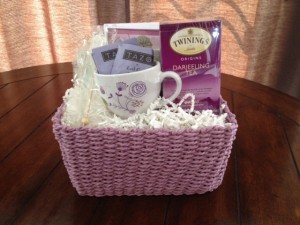 A beautiful gift for your most thoughtful friend or family member! The Thoughts of You Stationery & Tea Gift Basket is definitely one of my favorite gifts from 1800baskets.
In a soft woven Lavender basket that is completely perfect for spring, is an assortment of stationary including a large notepad, small notepad, and 10 notecards with envelopes. All are decorated with beautiful purple and green spring prints and the cards are printed with a "Thinking of You" message, handy for thoughtful recipient who loves to let those close to them know that they are thought of.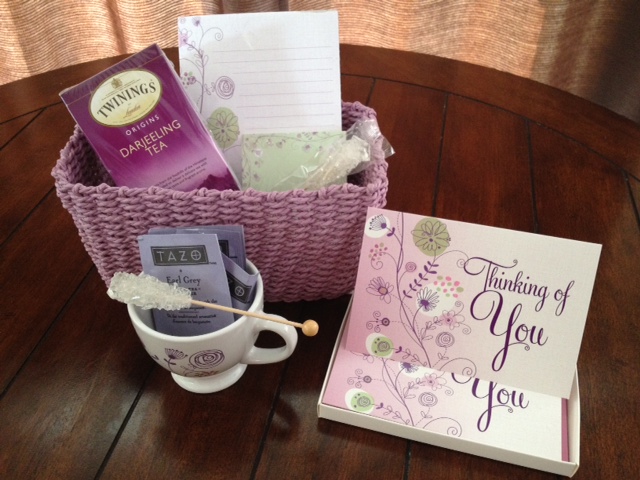 Everyone is very quick to send an email, text, or wall post to people but what makes this gift special is that not only are you sending a thoughtful gift but you're encouraging a more intimate form of communication. It would be nice to know that someone cared enough to hand-write a card to send to you just because they were thinking of you. I decided to split the stationary and cards with my mom. She has a definitely need for the "Thinking of You" cards so that she can send them to her coworkers and sisters, and I definitely needed some upbeat notepads for my desk. The floral colors and designs make my notes a little more fun for me.
Also included in this relaxing gift basket is a Stoneware Teacup with sweet lavender flowers decoration that is definitely going to get a lot of use from me. It's such an adorable cup and very stylish for the spring season.
That cute tea cup will definitely be great for all the packets of Tazo® Earl Grey® Tea and Twinings® Darjeeling® Tea that are also included in this gift basket. I was most excited though for the two rock candy stir sticks. One of which I may have eaten upon opening…sans tea.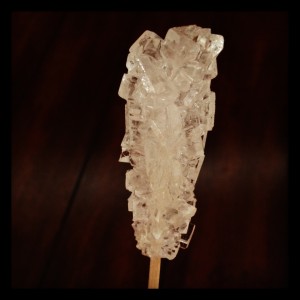 This is a great relaxing gift to send to your close friends, as a great housewarming gift, an accompanying bridal or engagement gift, family members, or anyone you want to get more in touch with. Their first use can be to send you a warm thank you card for this very thoughtful and original gift!