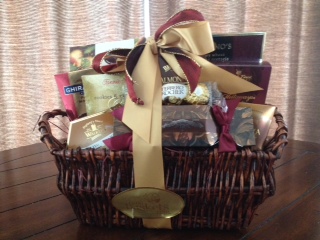 Another decadent chocolate and candy gift basket for all you chocolate lovers out there! This time we're reviewing the Deluxe Balsam Gift Basket with more than enough sweets and treats inside to deliver a smile.
All the chocolate and snacks are delivered inside a real dark willow hand-woven basket and completed with a hand-tied burgundy ribbon bow. This gift basket has a very stunning presentation when it is first delivered; color-coordinated gifts inside with a quality basket that will definitely be used around the home once the candy is gone! You could reuse this willow basket as a table centerpiece with fruit or napkins inside. The basket would also be great for functional storage in your living room, office or bedroom! Use the basket to store pens, markers, utensils; a place to organize and store remotes; a collective key holder; or store lotions and nail polish.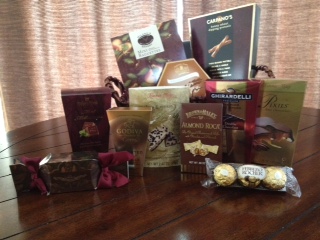 Of course, before I get to other uses for the gift basket, I have to enjoy all the goodies inside (see what I did there? "Have to" like it will actually be a chore!). Inside this sweet gift basket you'll find Armaretti Del Chiorsto® Cookies, (one of my personal favorites) Ferrero Rocher® Chocolates, very rich and chocolaty Godiva® Gems® Truffles, Walkers® Olde English Royal Toffees, World's Finest® Mint Meltaways Chocolates (which make awesome after dinner treats…or maybe I'm just trained by Olive Garden!), Fannie May® Cookies & Cream Bark, and one of my new favorite sweets Brown & Haley® Almond Roca® Buttercrunch Toffee. I will eat anything from Ferrero Rocher® and Fannie May®, but I seriously love the Cookies & Cream Bark; Cookies & Cream everything for me if we're being honest. I could see putting this in some ice cream during the summer for an extra sweet treat. And the Almond Roca® Buttercrunch Toffee was amazing; I just wish I had about 50 more pieces. It has the perfect combination of sweet and buttery with a great crunch to it. There was too much candy and chocolate inside the gift basket for me to eat all at once , so I made a cute little candy dish out of the sweets to leave in the living room for everyone to grab at when they needed a little sweet fix! 
This deluxe gift basket also has Fannie May® Pixies® Cocoa and Ghirardelli® Double Chocolate Cocoa. These will definitely be great to set aside for a cool night or a rainy day indoors. If you need your chocolate fix immediately no matter what the weather says, try them chilled! Make your cocoa as you normally would with hot water, but then add ice cubes or blend it with ice and milk for your own at home iced beverage.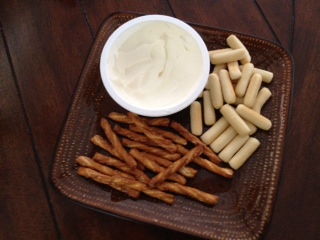 For all the chocolate and sweets inside the Balsam gift basket, the Honey Wheat Pretzel Braids and Smoky Mozzarella Mini Baguettes will be a great savory snack. Break out your favorite dips, cheeses, or just eat them plain! Maybe you're like me, but I always enjoy something salty or savory after I've had a lot of sweets or chocolate. I think these two snacks make a perfect addition to this very sugary gift basket.
The Deluxe Balsam gift basket makes a wonderful thank you present, a sweet graduation treat, or a cozy housewarming present. With so many great treats inside and a reusable gift basket it's at the top of our best gift list!