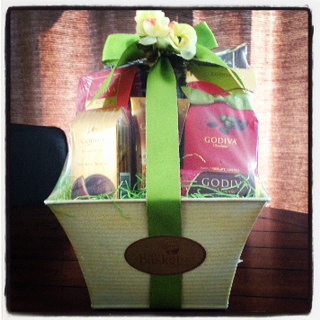 Whoever said that diamonds were a girl's best friend clearly never had a sweet surprise like this Spring Delight Godiva® Chocolates Gift Basket delivered to them!
Upon delivery, this beautiful gift basket is perfectly assembled (not a box out of place!) in an off white aluminum gift basket and protected by a tight seal and a glimmering green bow with a floral decoration to top it off. This chocolate gift basket has a very stunning presentation!
First things first, laying out all the chocolate that's inside this gift basket. I slip off the hand-tied bow ever so carefully, so that I won't ruin it and place it to the side. Tucked inside the gift basket is an array of chocolate bars, pieces, cocoa and more. As a proper product review, I know immediately that I have to taste every bit of chocolate in this basket (professional obligations of course!).
The Godiva® Dark Truffle Heart Biscuits are absolutely delicious. A sweet yet buttery cookie with a topping of smooth dark chocolate, this cookie is too good.
I set aside only one Godiva® Gems® Truffle, because I don't have that strong of will power if I leave them all out. Another rich chocolate to eat, also more rich chocolate to hide from myself.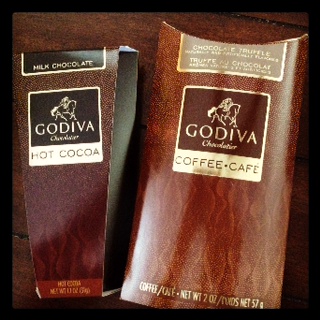 Inside this chocolate gift basket is Godiva® Caffe Chocolate Truffle Coffee and a packet of Godiva® Milk Chocolate Cocoa. It's too late in the day for me to make either of these surely delicious beverages, but I know they will come in handy when the weather decides to randomly dip down about 20 degrees!
I've seen the Godiva® dessert bars and chocolates around a few stores or checkout lanes for a while but I've only bought one flavor as a special treat. The Godiva® gift basket contains one Godiva® Dark Chocolate Raspberry Bar that perfectly marries dark chocolate with sweet raspberry filling. I've read recently that dark chocolate is supposed to be good for you, so I'll just count this as a healthy part of the gift basket (it has fruit; that counts right?).
There really is no health-conscious excuse for the Godiva® Strawberry Cheesecake Dessert Chocolate. It's just amazing and tastes like they were able to fit a strawberry cheesecake inside a tiny chocolate casing. Maybe that could be my argument, this beautiful chocolate bar makes up for me not eating an entire strawberry cheesecake slice with chocolate drizzled over it. Sounds like a good excuse to me!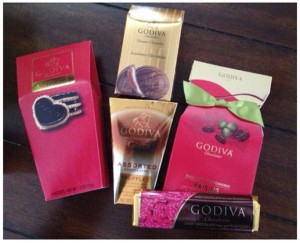 The last item in this bountiful chocolate gift basket is the small box of Godiva® Dark Chocolate Covered Raisins. I'm not a huge fan of chocolate covered raisins, but even I can't resist eating a few because the chocolate enrobed over it is just too good to say no to.
The Spring Delight Godiva® Chocolate Gift Basket is basically the best chocolate gift to give for any and all chocolate lovers. There is more than enough chocolate inside this small gift basket to hold you over for a few chocolate cravings. They'll love every content of this gift basket and can even use the container when they're finished!