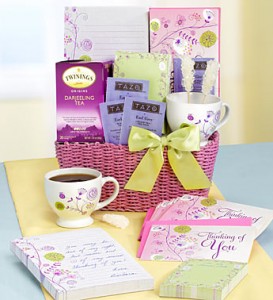 Welcome back readers!
As always, I loved all of your Thank You Gift suggestions (and even better, some of you put down really great recipes and dessert ideas!). Clearly, whoever is lucky enough to receive a thank you gift from one of you is in for a special treat. And I have a few of my own gifts to send out! Congratulations to Cathy B*****y (July 13, 2012 at 12:01 am), Judy (July 17, 2012 at 9:08 pm), Amanda S (July 18, 2012 at 10:50 am), Shannon J. (July 19, 2012 at 10:16 am), and Pat (July 19, 2012 at 12:50 pm)! You will all be receiving our special All Smiles Gourmet Sweets & Treats Gift Basket! Please send your shipping info to me at amariscal@1800flowers.com and I'll have your gift baskets sent out to you.
As I've said, I love reading through all of your comments (and sometimes even look there for future blog post ideas!). One comment I saw made me think of a really interesting topic that (of course) I can't wait to hear your thoughts on. When making or receiving a gift, do you prefer an all food gift or do you prefer a gift with reusable objects?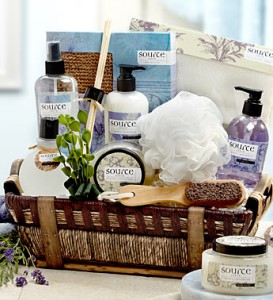 I know this really depends on the occasion, but usually the rule of thumb is to stick with food gifts because you know they can always be used…or well, eaten. But sometimes when I get a gift basket full of my favorite things like new books, magazines, pens, and all corresponding items, I can't help but love it more. And in a way, I think it says a lot that someone knew which things you would enjoy!
But as I said, you can never go wrong with food. Sure it's around every day, but there's something extra delicious about a gourmet treat that someone specifically picked with you in mind.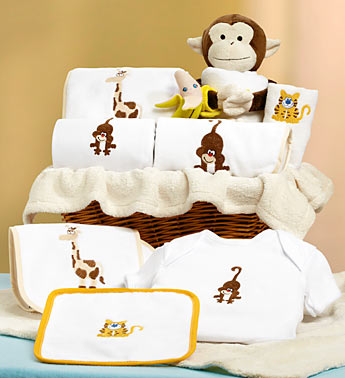 We have tons of gift baskets overflowing with delicious foods ready and on the go, but I definitely think our specialty gift baskets can hold their own!  As far as new baby gift baskets, this adorable monkey gift basket is super sweet and will put a huge smile on mommy's face.
If you're looking for a relaxing gift, our spa gift baskets are divine. Check out this Lavender spa gift basket sure to relax and soothe whoever is lucky enough to use it! Or if you're interested in a more active way to relax, this trendy and ready to go yoga gift set is perfect (and comes with some great essentials for your workout!).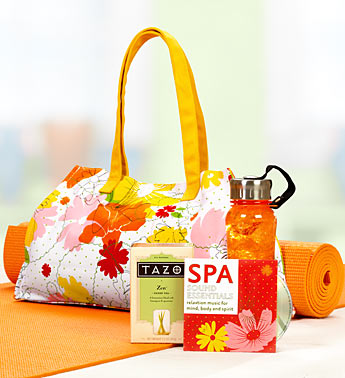 Feeling a bit pensive? Our Thinking of You stationary gift basket is a real treat! Check out a review I wrote on this gift basket here.
So what do you think? In the comments section (1-2 paragraphs) let me know which gift you prefer and why! FIVE lucky and random winners will receive a sweet prize next week.
Have a great weekend!